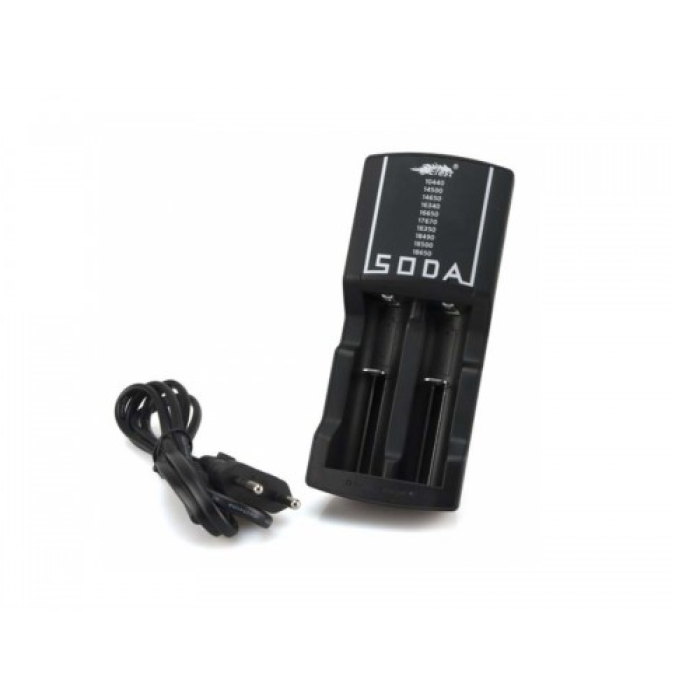 EFEST SODA CHARGER
World Wide Vape is the leading manufacturer of chargers in the USA. Efest Soda Charger is one of the best-selling chargers. Chargers are available all across the USA. Efest Soda Charger is a complete charger in several aspects and designed to provide you a better vaping experience.
World Wide Vape offers Efest Soda Charger in an elegant design. The best quality of Efest Soda Charger is that it can charge two batteries at the same time. In addition to it, it can also recognize Ni-MH, Li-ion, and Ni-Cd. Efest Soda charger is a latest and advanced charger that can easily detect the battery's status automatically and also apply appropriate charge or voltage mode. The Charger works on three different charging modes that are trickle charge, CV, and CC.
World Wide Vape's advanced product Efest Soda Charger is suitable for several types of batteries. It is compatible with 10440, 14500, 14650, 16340, 16650, 17650, 18350, 18490, 18500, and 18650 batteries. Efest Soda Charger keeps safe your battery from short circuit, over voltage, and reverse polarity protection. On AC mode, Efest Soda Charger operates at 100 to 240V with a frequency of 50 to 60 Hz. We always ensure that our customers get high-quality
chargers at a cheap price.
Features:
Model: Efest Soda Dual Charger

Input: AC 100 ~ 240V (50/60Hz)

Modes: Rapid charger or normal charger

Auto Recharge: 3.9 ñ 0.15V

Over-Voltage Protection Over-Discharging Protection

Short-Circuit Protection

Reverse Polarity Protection

Auto cut-off: 4.23 ñ 0.05V
Items List:
Efest SODA Charger (1 pcs)
Soda Charger by Efest
Soda Charger by Efest
Stock:

In Stock

Brand: Efest
Product Code:

6063
Volume Discounts
Save with Volume Discounts & Tailored Tiered Pricing