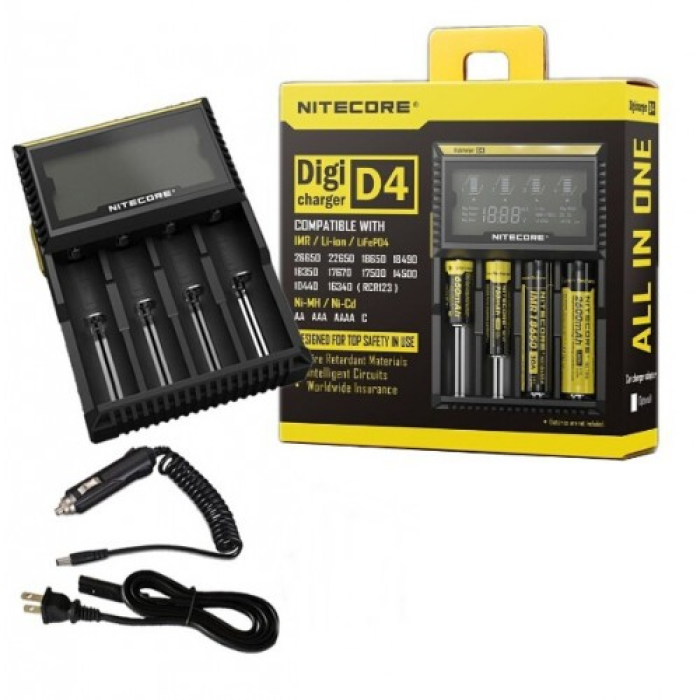 Restocking Soon
NITECORE DIGICHARGER D4
World Wide Vape is the leading manufacturer of chargers in the USA. Nitecore Digicharger D4 is one of the best-selling chargers. Chargers are available all across the USA. Nitecore Digicharger D4 is a complete charger in several aspects and designed to provide vaping for a long duration.
World Wide Vape offers Nitecore Digicharger D4 in an elegant design. It is one of the leading charging products available in the market. Nitecore Digicharger D4 has several unique features that make it the first choice for a battery charger. It is compatible with several batteries such as 10440, 14500, 16340 (RCR 123), 17500, 17670, 18350, 18490, 18650, 22650, and 26650. In addition to it, Nitecore Digicharger D4 can also charge four batteries at a time.
World Wide Vape's advanced product Nitecore Digicharger D4 has several unique features. It has an integrated microprocessor that automatically recognizes battery types and then provides recommended charging current and voltage. Nitecore Digicharger D4 has an optimized IMR charging system that is capable of monitoring the entire charging process that further extends battery life. Nitecore Digicharger D4 had a low current charging program and optimized
for batteries with a small capacity. The high-quality, durable material is utilized in the development of Nitecore Digicharger D4. It is constructed from ABS fire retardant material to provide you a seamless and safe vaping experience. We always ensure that our customers get high-quality chargers at a cheap price.
Features:
Capable of charging 4 batteries simultaneously

Each of the four battery slots monitors and charges independently

Compatible with and identifies Li-ion (26650, 22650, 18650, 1 7670, 18490, 17500, 18350, 16340(RCR123), 14500, 10440), Ni-MH and Ni-Cd (AA, AAA, AAAA, C) rechargeable batteries

Optimized charging design for IMR batteries

Integrated LCD panel clearly displays charging parameters and progress

Two conveniently located side buttons allow easy selection of specific battery types and charging parameters

Intelligent circuitry detects the battery type and status before entering automatic charge mode (CC, CV, dV/dt)

Automatically detects battery power status and selects the appropriate voltage and charge mode (with the exception of LiFePO4 batteries which require manual selection)

Compatible with LiFePO4 batteries

Compatible with small capacity batteries

Automatically stops charging when complete

Features over-charge prevention to protect batteries

Features temperature monitoring to prevent overheating

Made from durable ABS (fire retardant / flame resistant)

Features reverse polarity protection

Designed for optimal heat dissipation

Certified by RoHS, CE, FCC, CEC and KC

Insured worldwide by Ping an Insurance (Group) Company of China, Ltd.
D4 Charger by Nitecore
D4 Charger by Nitecore
Stock:

Restocking Soon

Brand: Nitecore
Product Code:

Charger
Volume Discounts
Save with Volume Discounts & Tailored Tiered Pricing