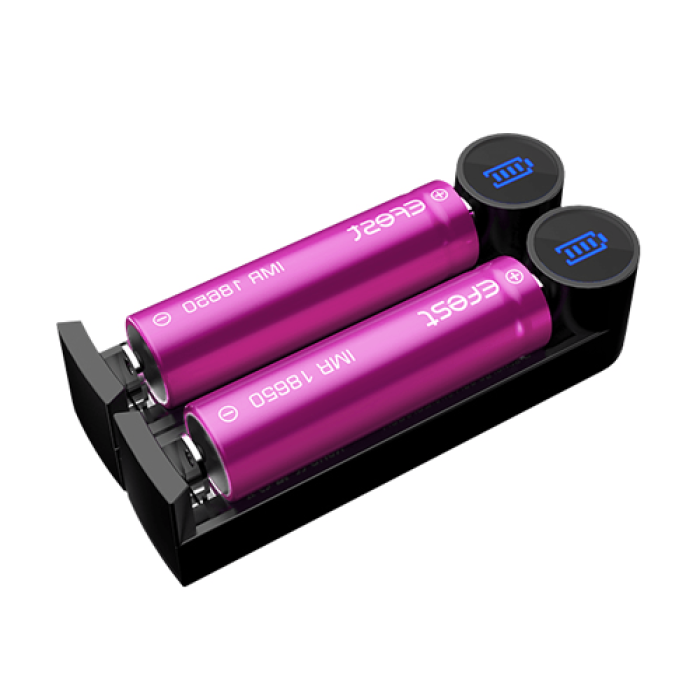 SLIM K2 BATTERY CHARGER BY EFEST
World Wide Vape is the leading provider of vape e-cigarette chargers in the USA. Slim K2 Battery Charger by Efest is one of the best selling e-cigarette chargers available in the market.
The Efest Slim K2 Battery Charger is a high quality, cost-efficient, and portable 18650 battery charger. The Efest Slim K2 Charger is a dual slot charger with a Micro USB input and charges at 1A. Each slot is monitored independently to provide the most efficient charge. The LED indicates when your battery is charging and when the battery is fully charged. The Efest Slim K2 Charger features reverse polarity, short circuit, overcharge protection and many more safety features. The Efest Slim K2 Charger can charge different types of 3.6V/3.7V lithium batteries commonly used in electronic cigarettes, flashlights, electric tools, and more. Slim K2 Battery Charger by Efest and other vape chargers are widely available at our website. In addition, you can also buy vape e-liquids, mods, tanks, and accessories at cheaper price from our website World Wide Vape.
Specifications of Efest Slim K2 Battery Charger:
AC Input Power: AC 100~240V 50/60Hz
DC Output Power: DC 5V 1A
DC Input Power: DC 5V 1A
Operation Temperature: 0C ~ 40C
Storage Temperature: -40C ~ 70C
Fit to 3.6v or 3.7v lithium battery in different sizes
Features of Efest Slim K2 Battery Charger:
Fast charging mode 1.0A
Portable design with high-quality piano strings
Battery Life LED Indicator light
Reverse polarity protection
Activation function
Auto-detect charging function
Overcharging protection
Short circuit protection
Single Slot 5V/1A Micro USB Charger
Package Contents:
Slim K2 Charger body
USB cable
Warranty card
Operation manual
Slim K2 Battery Charger by Efest
Slim K2 Battery Charger by Efest
Stock:

In Stock

Brand: Efest
Product Code:

6791
Volume Discounts
Save with Volume Discounts & Tailored Tiered Pricing