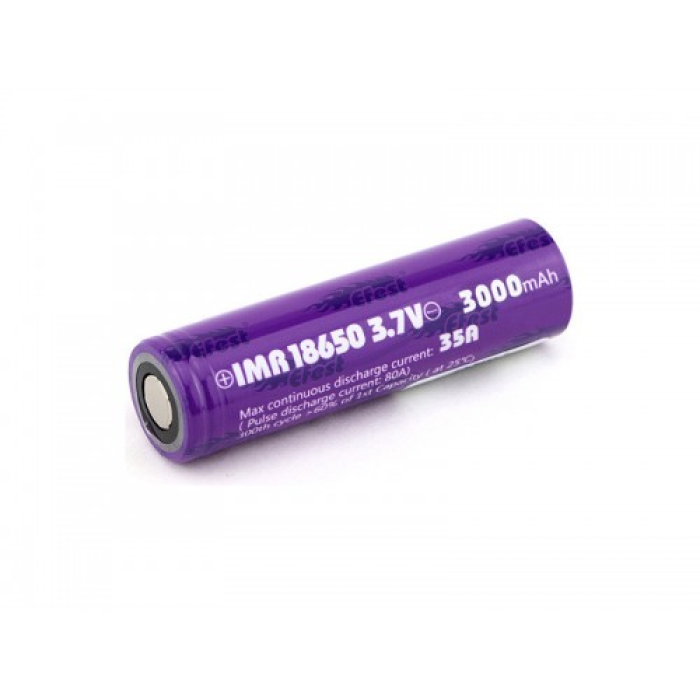 EFEST IMR 18650 LIMN 3000MAH BATTERY – FLAT TOP
World Wide Vape is the leading manufacturer of e-cigarette battery types in the USA. Efest IMR 18650 battery is one of the best selling batteries available in the market and is available all across the USA. Efest IMR 18650 battery is a complete e-cigarette battery in several aspects and designed to provide you with a better vaping experience.
We present Efest IMR 18650 battery in a sleek and compact design. A great e-cigarette battery comes with several features to makes it the first choice of e-cigarette users. It has a rated capacity of 3000mAh 35A. It also comes with the rated capacity of 2600mAh 40A. It is a lithium ion manganese battery and operates at a minimum voltage of 3.7V.
World Wide Vape's advanced product Efest IMR 18650 battery is suitable for both beginner and advanced vapers because of its durability, efficient performance, and top of all cheap price. It is a lightweight battery and weighs just 46 grams. The best part of Efest IMR 18650 battery is its recharge cycle that is 300 cycles. This quality enables you to forget about the
replacement of battery for several months. We make sure that our vape batteries provide you with the best vaping experience.
SPECIFICATIONS OF EFEST 3000MAH BATTERY
Brand: Efest
Size: 18650
Chemistry: IMR
Nominal Capacity: 3000mAh
Nominal Voltage: 3.7V
Discharge: 20A Continuous, Rated 35A Max Pulse by Efest
Positive: Flat
Protected: NO, UNPROTECTED
Rechargeable: Yes
Dimensions: 18.23mm x 65.02mm
Weight: 46g
IMR 18650 3000mah Battery by Efest Flat Top
IMR 18650 3000mah Battery by Efest Flat Top
Stock:

In Stock

Brand: Efest
Product Code:

6083
Volume Discounts
Save with Volume Discounts & Tailored Tiered Pricing