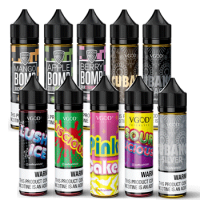 VGOD E-LIQUID BY VGOD
World Wide Vape has been the leading company in providing the best e-liquids in the USA. VGOD E-Liquid by VGOD is one of our top selling e-liquids. This vapor liquid is available in a sizes of 60ml with the nicotine strength of 0mg, 3mg, 6mg. Our exemplary e-juice has an entirely heavenly taste which vapor fans want to die for!
VGOD vape eliquid is blended in California from the finest ingredients to offer the most tastiest and enhanced vaping experience possible! VGOD master mixologists only acquire the most exceptionally pure, high quality extracts and nicotine to avoid all unnecessary additives. This way VGOD can guarantee absolutely flawless premium quality ejuice. To optimize performance and satisfaction, VGOD mixologists strive for well balanced ejuice blends by embracing a tiered arrangement of flavorings for added depth while complementing flavors with just the right amount of sweetness for more dynamic flavors. VGOD aims to deliver the perfect throat hit by limiting too much harshness on the inhale and exhaling notes. VGOD ejuice is made with a 70/30 VG/PG ratio that always delivers ultimate flavor and enormous clouds. VGOD vape e-liquid includes Cigar, Lush, Bomb, Fruit, Candy and Dessert Lines. All unique flavors in their own right, there is something for everyone in the complete line-up. All VGOD ejuice is available in 60ml chubby gorilla bottles with 0mg, 3mg or 6mg nicotine strengths. It is always VGOD's endeavor to offer the choicest of ejuice at affordable pricing because honestly, it's always about quality, living a smoke free life and having a great time
VGOD E-Liquid Features:
60mL Chubby Unicorn Bottle
Child-Resistant Cap
Made in USA
70% VG
30% PG
Manufactured by VGOD
Available Nicotine: 0mg, 3mg, 6mg
Flavors Available:
Apple Bomb VGOD E-liquids 60ml Strolling along green grassy rolling hills overlooking the coast, you come upon a lone tree and find solace in its' shade. It is a perfect time for a refreshingly juicy and crisp Granny Apple, so you reach inside your pack to find your mod. You take a rip of Apple Bomb and it instantly detonates notes of a mesmerizing juicy apple at the fore of the hit. Throughout the pull you taste a momentary rich sour tartness that bursts through to a captivating savorous candied apple sweetness on the exhale. After a few hits of Apple Bomb you're erupting with energy and ready to blaze your trail once again!
Berry Bomb VGOD E-liquids 60ml Hittin sweet freshies all morning, it's time to lay low on the top deck at the sugar-coated summit watching snow sprinkle like confectionary. A craving arises for something fruity, but candylike. It's time for VGOD's Berry Bomb! Drippin it, you can't hardly wait for the balance of sweetness and tangy sour strawberries. As you inhale, it's instantly satisfyingly sublime strawberry zest on the top note! As it hits the back of your throat you taste a lip-smacking tartness middle note, but quickly you're blasted with candied strawberry as a base note on the exhale. Bursting with Berry Bomb charge you take a couple more pulls and your driven to make your way back to the slopes to blast out fresh tracks!
Cubano Black VGOD E-liquids 60ml is a crafted specialty and has been aged to perfection. It is handcrafted in limited quantities and pre-steeped for months to coalesce to perfection. BOLD is the word you will envision when the robust Cuban cigar flavor hits your palate commingling perfectly with hints of rich creamy custard. The only thing that you will be thinking of as you exhale this smooth, well-balanced flavor, is the anticipation of your next draw of Cubano Black by VGOD.
Cubano VGOD E-liquids 60ml is a full flavor Cuban cigar topped off with a drizzle of soft creamy vanilla undertones. Richly robust Cuban tobacco with such a smooth finish, the Cubano is an instant classic that you will want on hand all throughout your day.
Cubano Silver VGOD E-liquids 60ml Under the buttery bright vanilla summer moon on the creamy coast of Santa Maria del Mar, you're watching the warm waves roll in. With sweet sounds of rumba in the distance, you reach for your mod to relish in the rarity of a truly classic full flavored Cuban cigar infused with a warm top note of buttery vanilla custard, rounded off with a hint of spice, sweet caramelized brown sugar and honey for the finish. In a flash, you take another deep pull and instantly you're ready for whatever the night brings.
Luscious VGOD E-liquids 60ml is a delicious burst of fresh watermelon on the inhale with sweet undertones of mixed melons on the exhale. Bursting with fruity flavor, Luscious is an amazing all-day vape experience!
Lush Ice VGOD E-liquids 60ml is VGOD's signature watermelon candy flavor infused with a fresh breeze of menthol. Upon exhale a mixture of melon flavors infiltrate your taste buds that provides a smooth, cool and fruity all-day vaping experience!
Sourlicious VGOD E-liquids 60ml kicks off with a smooth yet tart wave of sour watermelon candy on the inhale with blended undertones of mixed melons upon a sugary exhale. SourLicious hits the perfect balance of sour yet sweet and fruity for a satisfying all-day vape.
Purple Bomb VGOD E-Liquids 60ml urple Bomb is an eruption of the juiciest Concord grapes freshly pressed and mixed with a little extra sweetness reminiscent of your favorite grape candy. From start to finish, Purple Bomb is an effusion of dark grape juice that will captivate taste buds that crave quality grape satisfaction.
Purple Bomb ICE VGOD E-Liquids 60ml delivers a frozen Antarctic chill alongside a powerful punch of sweet grape candy that is infused with delicious Concord grape juice. It is a fresh, sugary and mentholated grape experience that will captivate grape aficionados all day long
The e-liquid is in a gorilla bottle for easy refilling of the kit which minimises any loss of the e-liquid as well as a closure for child protection.
All of our flavors are American made, and contain only the finest ingredients.**
CALIFORNIA PROPOSITION 65 - Warning: This product contains nicotine, a chemical known to the state of California to cause birth defects or other reproductive harm.
VGOD E-Liquid
VGOD E-Liquid
Stock:

In Stock

Brand: VGOD
Product Code:

E-Liquids
Available Options
| VGOD E-Liquids | Price | Stock | Order Qty |
| --- | --- | --- | --- |