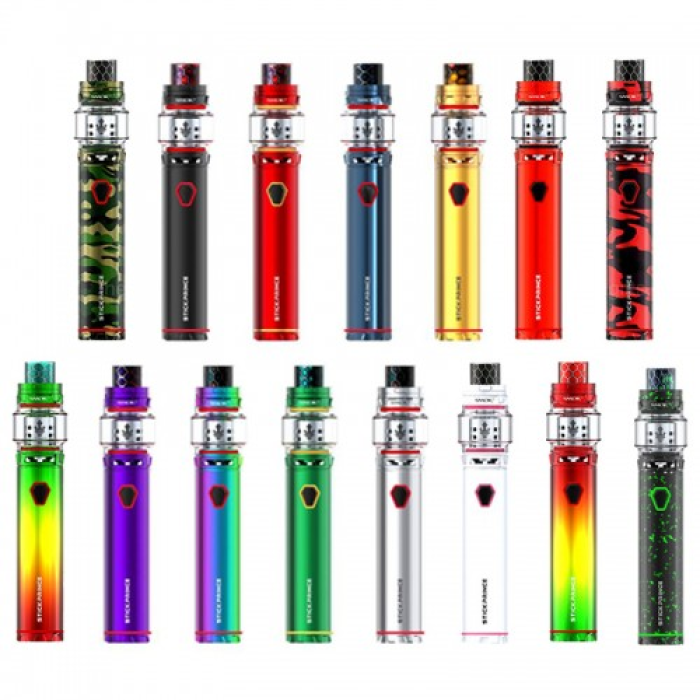 Restocking Soon
STICK PRINCE KIT BY SMOK
World Wide Vape is the leading provider of vape e-cigarette kits in the USA. Stick Prince Kit by SMOK is one of the best selling e-cigarette kits available in the market.
The SMOK Stick Prince Starter Kit takes the renowned SMOK Stick series and combines it with the SMOK TFV12 Prince Sub-Ohm Tank. The SMOK Stick Prince features a 3000 mAh integrated battery with smart mechanical style output (output dependent on current state of battery) and intelligent LED light indicator that indicates battery life. The SMOK Stick Prince has a newly designed hexagonal power button and carefully carved battery base, making it more exquisite than the other Stick series devices. The chassis design of the TFV12 Prince features multiple diameters, measuring 25mm at the base and 28mm at the widest point. The new press to open Top Fill System that isn't featured from the previous editions is fully implemented into the TFV12 Prince, with a single fill port and a maximum tank capacity of 8 milliliters of E-Liquid. Included are two V12 Prince-M4 0.17 ohm coils, designed specifically for the mechanical style output of the Stick Prince. The SMOK Stick Prince and TFV12 Prince Starter Kit is a powerful combination that is bound to be a legend. Stick Prince Kit by SMOK and other vape e-cigarette kits are widely available at our website. In addition, you can also buy vape e-liquids, mods, tanks, and accessories at cheaper price from our website World Wide Vape.
Stick Prince Battery Features:
3000 mAh Integrated Battery
Smart Mechanical Style Output
Intelligent LED Light Indicator
Carved Battery Base
Durable Alloy Construction
Stainless Steel 510 Thread Point
Product Dimensions:
TFV12 Prince Sub-Ohm Tank Features:
25mm Diameter Base
Hinge and Lock Top Fill System
5ml Max Standard Capacity
8ml Max Convex Glass Extension Capacity
SMOK V12 Prince Coil Family

V12 Prince-T10 Decuple Coil Head
V12 Prince-X6 Sextuple Coil Head
V12 Prince-Q4 Quadruple Coil Head

Dual Adjustable Airslots
Stainless Steel and Glass Construction
Product Includes:
One SMOK Stick Prince 3000 mAh Battery
One SMOK TFV12 Prince Sub-Ohm Tank
Two V12 Prince-M4 0.17 ohm Coils
USB Charging Cable
Replacement and Spare Parts
User Manual
Stick Prince Kit by SMOK
Stick Prince Kit by SMOK
Stock:

Restocking Soon

Brand: Smoktech
Product Code:

Stick Prince Kit by SMOK
Available Options
| Colors | Price | Stock | Order Qty |
| --- | --- | --- | --- |
Volume Discounts
Save with Volume Discounts & Tailored Tiered Pricing