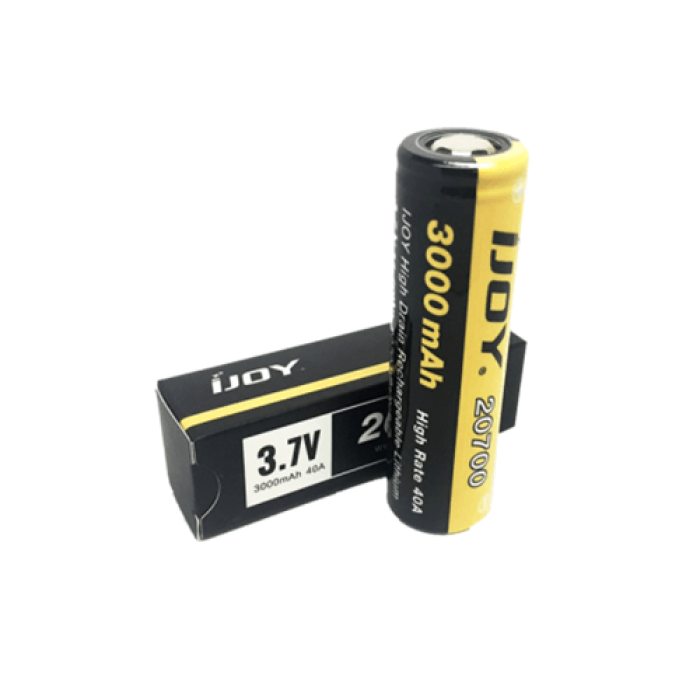 Restocking Soon
IJOY 20700 3000MAH 40A BATTERY
World Wide Vape is the leading provider of latest vape batteries in the USA. Ijoy 20700
3000mAh Battery is one of the best-selling vape batteries available in a market. It is available all
across the USA.
We offer Ijoy 20700 3000mAh Battery in a durable and compact design. It is a flat top battery
With high rated capacity of 3000mAh. It is available in two different colors and you can easily
Buy it in black and gold colors. It is a Li-Ni battery, and high quality of Nickel and Lithium is
used in its manufacturing.
Our advanced product Ijoy 20700 3000mAh Battery is a must-have product for any e-cigarette
user because of its several unique features. It operates within a temperature range of -20 to 60
degree Celcius. However, it makes it ideal to operate in any weather condition. The battery is
built for a durable use, but you should keep it away from metal objects to avoid short-circuit.
Ijoy 20700 3000mAh Battery and other vape batteries are widely available at our website. Also,
you can also buy vape e-liquids, mods, e-cigarette kits, and accessories at cheaper price from our
website.
Specifications of IJOY 20700 3000mAh 40A Battery
Size: 20700
Type: Li-Ni (High Drain)
Typical Capacity: 3030mAh
Min Capacity: 3000mAh
Nominal Voltage: 3.7V
Peak Voltage: 4.2V
Cut-off Voltage: 2.5V
Dimensions: 20.4mm (Diameter) x 70.1mm (Length)
Rechargeable: Yes
Max Continuous Discharging Current: 40A
Max Pulse Discharging Current: 85A
Style: Flat Top
Color: Black and Gold
Rated Capacity: 3000mAh
Temperature:
Temperature range: -20 to +60 Degree Celsius
Monthly Self-discharge rate: Less or equal 0.5%
Temperature range: Discharge: -20 to +60 Degree Celsius, Charge: 0 to 45 Degree Celsius
Features of IJOY 20700 3000mAh 40A Battery:
High Discharge INR Flat Top Battery
3000 mAh Rated Capacity
3.7V Nominal Voltage
40A Continuous Discharge Maximum
IMPORTANT:
Fully charge before first use.
Never short (connect positive and negative size) battery.
Keep them always in a battery case, or any other insulating material.
Never keep this battery together with metal objects (short circuit can happen if you do).
Never carry a bare cell in your pocket with keys, change or any other metal objects.
20700 3000mAh 40A Battery by iJoy
20700 3000mAh 40A Battery by iJoy
Stock:

Restocking Soon

Brand: iJoy
Product Code:

6720
Volume Discounts
Save with Volume Discounts & Tailored Tiered Pricing