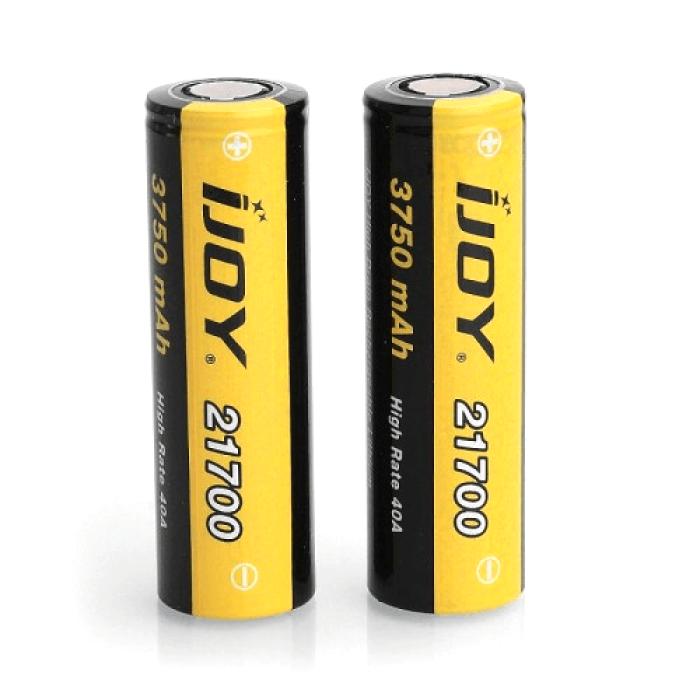 Restocking Soon
21700 BATTERY BY IJOY
World Wide Vape is the leading provider of latest vape batteries in the USA. 21700 Battery by iJoy is one of the best-selling vape batteries available in a market. It is available all across the USA.
21700 Battery by iJoy and other vape batteries are widely available at our website. Also, you can also buy vape e-liquids, mods, e-cigarette kits, and accessories at cheaper price from our website World Wide Vape.
21700 Battery by iJoy Features:
Size: 21700
Dimensions: 21.6mm (Diameter) x 70.5mm (Length)
Weight: 70g nominal
Type: Li-Ni (High Drain)
Max Continuous Discharge Current: 40A
Typical Capacity: 3750 mAh
Min Capacity: 3700mAh
Nominal Voltage: 3.7V
Peak Voltage: 4.2V
Minimum Cut-off Voltage: 2.5V
Rechargeable: Yes
Style: Flat Top
Color: Black and Gold
Rated Capacity: 3750mAh
Unprotected
Origin: China
21700 Battery by iJoy
21700 Battery by iJoy
Stock:

Restocking Soon

Brand: iJoy
Product Code:

IJOY 21700 BATTERY
Volume Discounts
Save with Volume Discounts & Tailored Tiered Pricing