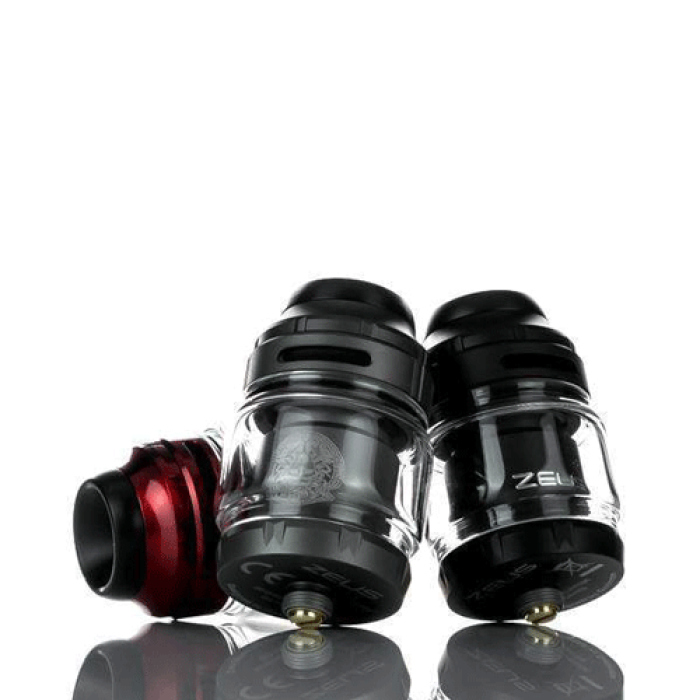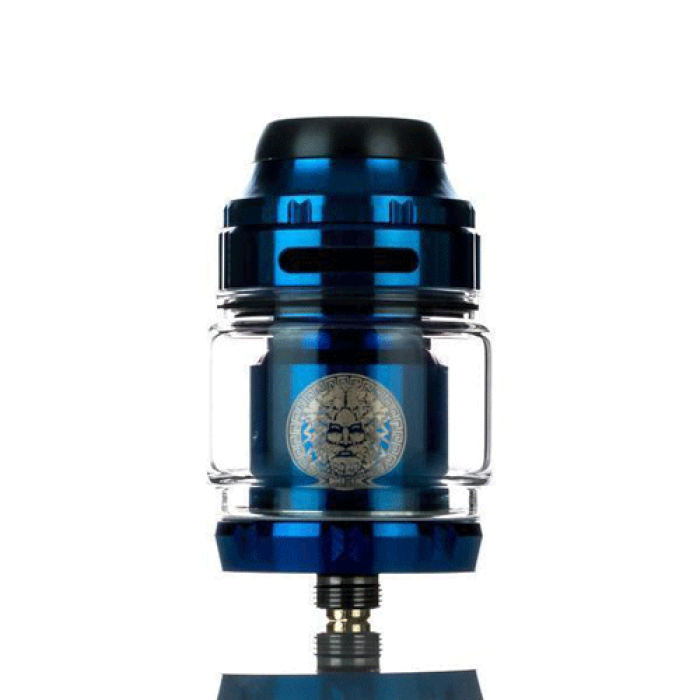 Restocking Soon
Zeus X RTA by GeekVape
World Wide Vape is the leading provider of vape e-cigarette kits in the USA. Zeus X RTA by GeekVape is one of the best selling e-cigarette RTA Tanks available in the market. We offer Zeus X RTA by GeekVape in a durable design. It is a small portable e-cigarette RTA tank that is much easy to carry and use.
The Geek Vape ZEUS X RTA is the upgraded rendition of the appraised Zeus series, deploying an elevated postless build design to accommodate a complex range of builds while improving upon the dynamic, performance-driven top airflow design. The Zeus X is the final edition of the Zeus series, specially designed for RTA enthusiasts. A comprehensive upgrade has been made on this edition based on suggestions and feedbacks from hundreds of Zeus enthusiasts around the world. Main features include direct top airflow and top-to-side airflow which are combined to create an outstanding flavor and vapor production while maintaining its leakproof condition, All new build deck designed for easy coil building with open access to trim excess wires, Detachable inner chamber for convenient cleaning access and an upgraded fill port design to minimize liquid spillage during the refill process. New to the ZEUS X resides within the added multi-hole airflow chimney, located at the central airtube of the entire structure. Airflow enters through two large external airslots, each measuring 15mm by 2.5mm, into the central chimney and disperse downwards to the multi-hole slots and finally, the atomizer chamber.
Zeus X RTA Features:
25mm Diameter
4mL Maximum Juice Capacity
Superior Stainless Steel Construction
High-Temp Resistant Silica Glass Reinforcement
Enlarged Build Deck
Elevated Postless, Four Terminals Design
Single or Dual Coil Configurations
Side-Secured via Flathead Slotted Screws
PEEK Insulator
Efficient Wicking System
Enhanced 3D Three Dimensional Airflow
Adjustable Dual Exterior Top Airflow - 15mm by 2.5mm
Single Internal Central Air Tube - Funels Into Multi-Hole Slots
Convenient Threaded Top-Fill Method
810 Delrin Widebore Drip Tip
810 ULTEM Widebore Drip Tip
510 Drip Tip Adapter
510 Connection
Available in Stainless, Black, Blue, Gold, Rainbow
Package Includes:
1 ZEUS X 25mm RTA
1 810 Delrin Widebore Drip Tip
1 510 Drip Tip Adapter
1 Spare Glass Tube
1 Allen Key
2 Prebuilt Clapton Coils
1 Set of Cotton Wicks
1 User Manual
Zeus X RTA by GeekVape and other vape e-cigarette RTAs are widely available at our website. In addition, you can also buy vape e-liquids, mods, tanks, and accessories at cheaper price from our website.
WARNING: Please have a great understanding and technical knowledge on how to use this product in order to properly use it. There is always an inherent risk when using any rechargeable batteries at anytime and under any circumstances. World Wide Vape Distribution and any of World Wide Vape Distribution's parent and subsidiary companies are not held responsible for any damage for any modification of the batteries, chargers, devices and other products that we carry in any form or shape, this is including pack making.

World Wide Vape Distribution and any or all of World Wide Vape Distribution's parent and subsidiary companies will not be held responsible or liable for any injury, damage, or defect, permanent or temporary that may be caused by the improper use of a Li-ion (Lithium-ion), LiPo (Lithium-ion Polymer) and any rechargeable battery and/or batteries as well as chargers. Please have a greater understanding of the batteries and/or chargers you are using and how to care for them properly.
This product contains nicotine. Nicotine is an addictive chemical.
Zeus X RTA by Geekvape
Zeus X RTA by Geekvape
Stock:

Restocking Soon

Brand: Geekvape
Product Code:

RTA
Available Options
| Colors | Price | Stock | Order Qty |
| --- | --- | --- | --- |
Volume Discounts
Save with Volume Discounts & Tailored Tiered Pricing