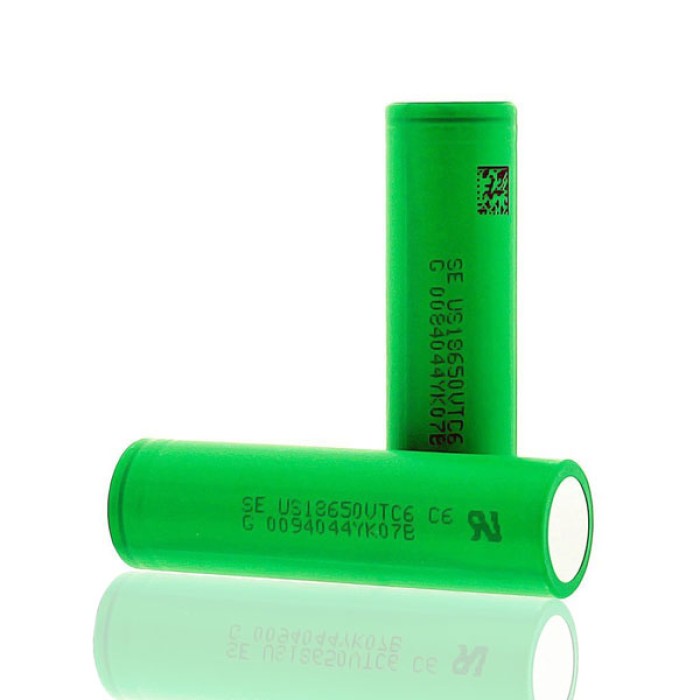 Restocking Soon
World Wide Vape is one of the leading companies of batteries in the USA. The VTC6 18650 battery by Sony is one of the top rated batteries. Batteries are available all over the country. Sony VTC6 battery is a complete battery in different aspects and is made to provide you a better vaping experience.
Sony VTC6 Battery 18650 3000mAh 15A 3.6V is a highly rated rechargeable battery from a renowned manufacturer, perfect to use in VV/VW Mods and other high power configurations. It features 3000mAh capacity and constructed with Hi-Drain capability for safety with flat top design, often compare to LG HG2 as it is underrated with 15A.
Sony VTC6 18650 15A 3000mAh Battery Features:
Nominal Capacity: 3000mAh
Maximum Discharge Current: 15A Continuous
Nominal Voltage: 3.6V
Top: Flat Top
Type: Lithium-ion
Size: 18650
Sony VTC6 Battery and other vape e-cigarette kits are widely available at our website. In addition, you can also buy vape e-liquids, mods, tanks, and accessories at cheaper price from our website.
WARNING: Please have a great understanding and technical knowledge on how to use this product in order to properly use it. There is always an inherent risk when using any rechargeable batteries at anytime and under any circumstances. World Wide Vape Distribution and any of World Wide Vape Distribution's parent and subsidiary companies are not held responsible for any damage for any modification of the batteries, chargers, devices and other products that we carry in any form or shape, this is including pack making.

World Wide Vape Distribution and any or all of World Wide Vape Distribution's parent and subsidiary companies will not be held responsible or liable for any injury, damage, or defect, permanent or temporary that may be caused by the improper use of a Li-ion (Lithium-ion), LiPo (Lithium-ion Polymer) and any rechargeable battery and/or batteries as well as chargers. Please have a greater understanding of the batteries and/or chargers you are using and how to care for them properly.
This product contains nicotine. Nicotine is an addictive chemical.
VTC6 18650 Battery by Sony
VTC6 18650 Battery by Sony
Stock:

Restocking Soon

Brand: Sony
Product Code:

Batteries
Volume Discounts
Save with Volume Discounts & Tailored Tiered Pricing