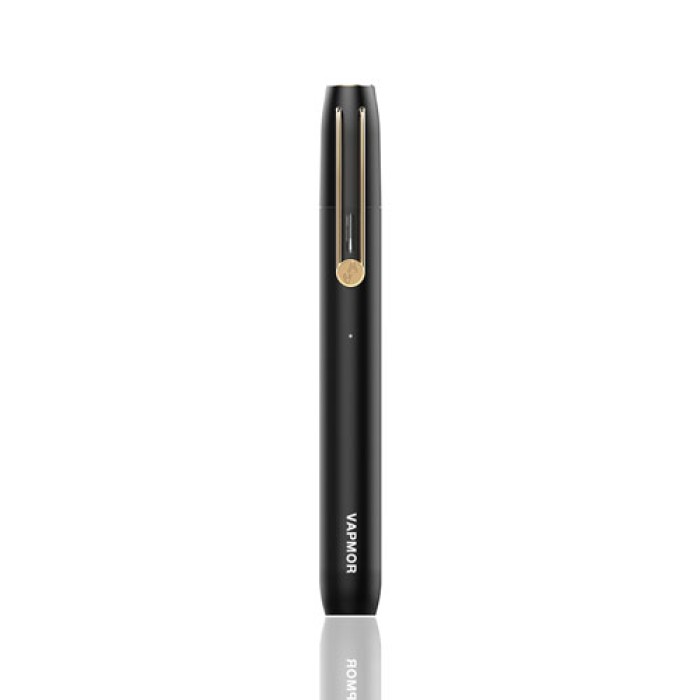 VPEN Kit by Vapmor
World Wide Vape is the leading provider of vape e-cigarette kits in the USA. VPEN Kit by Vapmor is one of the best selling portable e-cigarette kits available in the market. We offer the VPEN Kit by Vapmor in a durable design. It is a portable e-cigarette kit that is much easy to carry and use.
With a maximum of 13W output, the VPEN pod system produces tremendous power and satisfying clouds from its slim form. The long-lasting 600mAh battery makes VPEN a perfect all-day vape. The pen-like shape comes with a "clip & cap" feature, making it easy to clip onto clothing while keeping the mouthpiece clean for every inhale. The 2.0ML pod is designed with a special switch for child safety. Metal components within the pod are gold-plated and made from lead-free brass to avoid harmful chemical reactions and create a premium look. It is a perfect pod system for those who seek a combination of elegant appearance and excellent nicotine satisfaction.
VPEN Kit by Vapmor Features:
Clip & Cap, Clean & Convenient

Child Safety Pod

Magnetic Connection

Haptic Feedback

Easy to Refill

Passthrough Charging

Size: 16 * 133mm

Battery: 600mAh

Output: ≤13W

Capacity: 2.0ML

Resistance: 1.0ohm
Includes:
1 * VPEN Battery

1 * VPEN Refillable Pod

1 * USB Cable

1 *

User

Guide & Warranty Card

1 * ID Card
VPEN Kit by Vapmor and other vape e-cigarette kits are widely available at our website. In addition, you can also buy vape e-liquids, mods, tanks, and accessories at cheaper price from our website World Wide Vape.
WARNING: Please have a great understanding and technical knowledge on how to use this product in order to properly use it. There is always an inherent risk when using any rechargeable batteries at anytime and under any circumstances. World Wide Vape Distribution and any of World Wide Vape Distribution's parent and subsidiary companies are not held responsible for any damage for any modification of the batteries, chargers, devices and other products that we carry in any form or shape, this is including pack making.

World Wide Vape Distribution and any or all of World Wide Vape Distribution's parent and subsidiary companies will not be held responsible or liable for any injury, damage, or defect, permanent or temporary that may be caused by the improper use of a Li-ion (Lithium-ion), LiPo (Lithium-ion Polymer) and any rechargeable battery and/or batteries as well as chargers. Please have a greater understanding of the batteries and/or chargers you are using and how to care for them properly.
This product contains nicotine. Nicotine is an addictive chemical.
VPEN Kit by Vapmor
VPEN Kit by Vapmor
Stock:

In Stock

Brand: VAPMOR
Product Code:

Kit
Available Options
| Colors | Price | Stock | Order Qty |
| --- | --- | --- | --- |
Volume Discounts
Save with Volume Discounts & Tailored Tiered Pricing