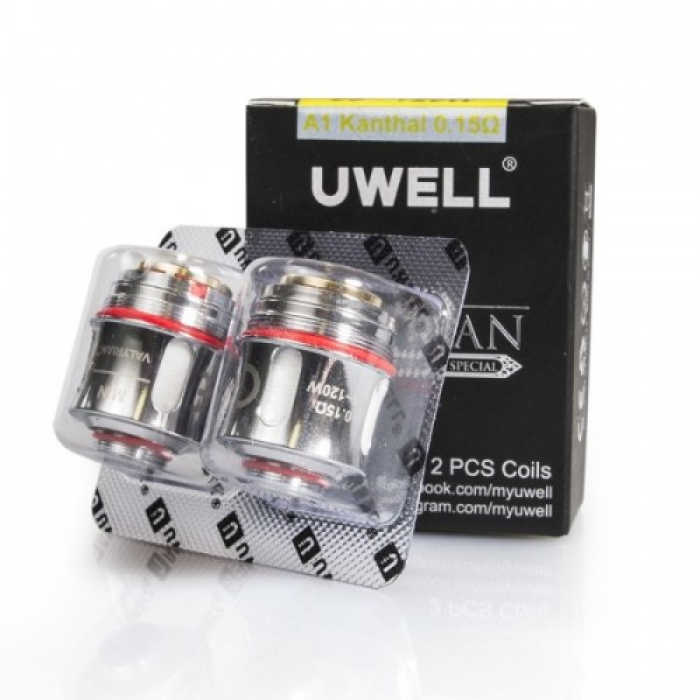 Restocking Soon
VALYRIAN TANK REPLACEMENT COILS BY UWELL (2-Pcs Per Pack) 40pk/Box
World Wide Vape is the leading provider of vape e-cigarette coils in the USA. Valyrian Tank Replacement Coils (2-Pack) by Uwell is one of the best selling coils available in the market.
Uwell Valyrian Tank Replacement Coils 0.15ohm 2pcs/pack is designed for UWELL Valyrian. Adopts quad coil with parallel leg wires will bring you an incredible flavor. In addition, you can also buy vape e-liquids, mods, tanks, and accessories at cheaper price from our website World Wide Vape.
Parameters:
Resistance: 0.15 ohm Rated for 95~120W Suitable for Uwell Valyrian Sub Ohm Tank Atomizer Material: Stainless Steel Specification: Wattage: 95-120W
Package Includes:
2 x Uwell Valyrian Replacement Coils
Valyrian Tank Replacement Coils by Uwell (2-Pcs Per Pack)
Valyrian Tank Replacement Coils by Uwell (2-Pcs Per Pack)
Stock:

Restocking Soon

Brand: Uwell
Product Code:

7058
Available Options
| Choose Ohms | Price | Stock | Order Qty |
| --- | --- | --- | --- |
Volume Discounts
Save with Volume Discounts & Tailored Tiered Pricing