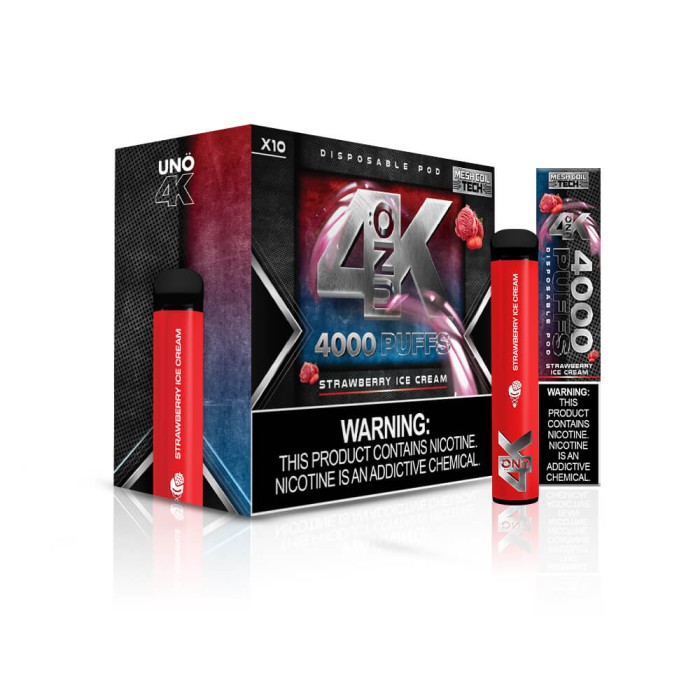 UNO 4K

UNO 4K Disposable Vape, the epitome of vaping innovation, is now equipped with so many features
to enhance your vaping pleasure. Engineered with a powerful 1200mAh battery and an 8ml e-liquid
tank, this remarkable device ensures an extended vaping session of up to 4000 puffs.
The UNO 4K Disposable Vape sets itself apart with its state-of-the-art mesh coil, designed to
maximize flavor delivery and produce dense, satisfying clouds of vapor. Immerse yourself in the
richness and depth of each puff as the mesh coil technology brings out the true essence of your
chosen flavor.
With an extensive range of 25 flavors to choose from, the UNO 4K Disposable Vape caters to every
preference. Whether you crave the sweetness of tropical fruits, the coolness of menthol, or the
indulgence of creamy desserts, there's a flavor to suit every mood and occasion.
To guarantee authenticity, UNO introduces a unique security code verification system. Enter the
code on the purchased package on their official website and easily verify the originality of your
product. This added feature ensures a genuine and uncompromised vaping experience every time!
Safety remains a top priority, and this disposable vape is designed with multiple protective features.
It includes short-circuit protection, overheat protection, and overcharge protection, ensuring peace
of mind as you enjoy your vaping journey. The device is crafted from high-quality materials, meeting
rigorous quality standards to ensure durability and reliability.
UNO 4K is the ultimate choice for vapers seeking convenience, performance, and exceptional taste
so rush and unlock a world of flavor with the UNO.
Uno 4k Disposable Vape

Specifications:
Battery Size: 1350 mAh

Salt E-liquid: 9 ml

Puffs: 4000
Uno 4k Flavors:
Rainbow

Watermelon Candy

Jungle Juice

Key lime Pie

Strawberry Ice Cream

Strawberry Watermelon

Banana Yogurt

Blueberry Lemon Ice

Cool Mint

Iced Blueberry

Iced Peach

Strawberry Yogurt
UNO 4K Disposable (Box of 10)
UNO 4K Disposable (Box of 10)
Stock:

In Stock

Brand: UNO
Product Code:

Disposable
Available Options
| UNO 4k Disposable Flav | Price | Stock | Order Qty |
| --- | --- | --- | --- |
Volume Discounts
Save with Volume Discounts & Tailored Tiered Pricing