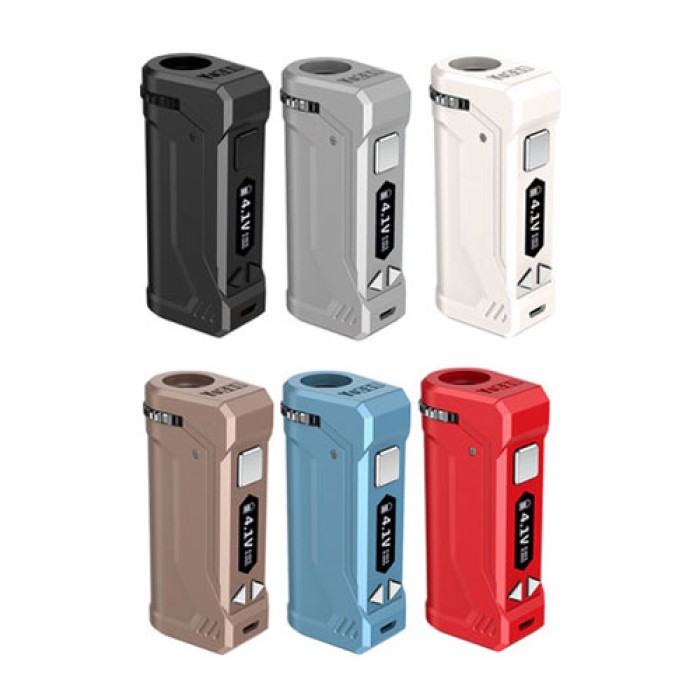 Sale
The Yocan UNI Pro Vape takes the patented adjustable port design of the original UNI 650mAh Cartridge Battery and incorporates a bright OLED display screen with with precision output control for fine-tuned custom results.

It's innovative atomizer port can be changed in height and width using the dial/slider on the back of the device to perfectly match the size of your cartridge. It's size has been increased to match atomizers as large as 14mm in diameter, allowing you to use your entire collection of 510 oil atomizers with absolutely no issue.

Every kit includes the original UNI magnetic adapter that connects to the bottom of your cartridge and creates a strong, secure and ultra reliable connection to the battery. It's designed with four bottom airflow notches to accommodate all atomizer types.

The UNI Pro Vaporizer offers a much wider voltage range (2.0-4.2V) to vaporize your concentrated oils. You can select anywhere within that range using precise 0.1V increments rather than relying on preset voltage levels so your end result will be exactly how you prefer.

Yocan made it extremely easy to configure your settings with the UNI's new 0.49" OLED screen. On this display you can easily see your output levels, coil rating, a session timer and even your remaining battery life.

It's conveniently controlled with a simple three button interface that proves easy to operate for even the most novice users. Use the top square power button to the turn the device on or off by rapidly pressing it 5 times within 2 seconds.

After you have it turned on you can select your voltage level by using the bottom two arrow keys. Press left to decrease or right to increase, after you have your ideal setting the UNI Pro Vape will automatically remember and use that voltage the next time the device is powered on.

From there just press/hold the power button to vape your cartridge for up to 15 seconds at a time. You can also double click the power button to use the UNI Pro Vaporizer's cutting-edge preheat mode.

This uses a low voltage setting to warm your attachment for 10 seconds. This comes in handy before your first session when you're vaping in colder environments, heating thick waxy oils or simply need to clear a clogged airflow.

At only about 3 inches tall by just under 1.4 inches wide, the UNI Pro Mod is not much larger than the original but includes way more to guarantee a great experience.

Grab yours in six sleek colors and enjoy your concentrates on the go discreetly anywhere using every atomizer you can find with no exceptions.
UNI Pro Kit by Yocan
UNI Pro Kit by Yocan
Stock:

In Stock

Brand: Yocan
Product Code:

Kit
Available Options
| Colors | Price | Stock | Order Qty |
| --- | --- | --- | --- |
Volume Discounts
Save with Volume Discounts & Tailored Tiered Pricing