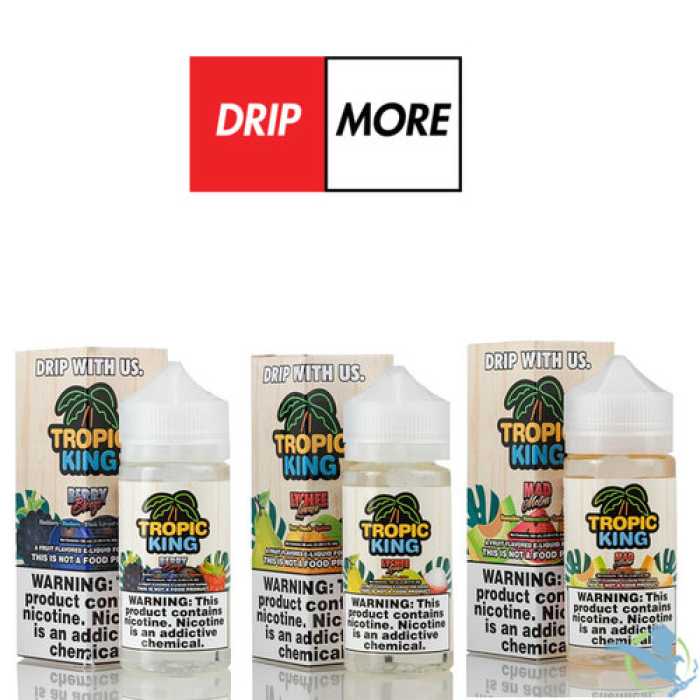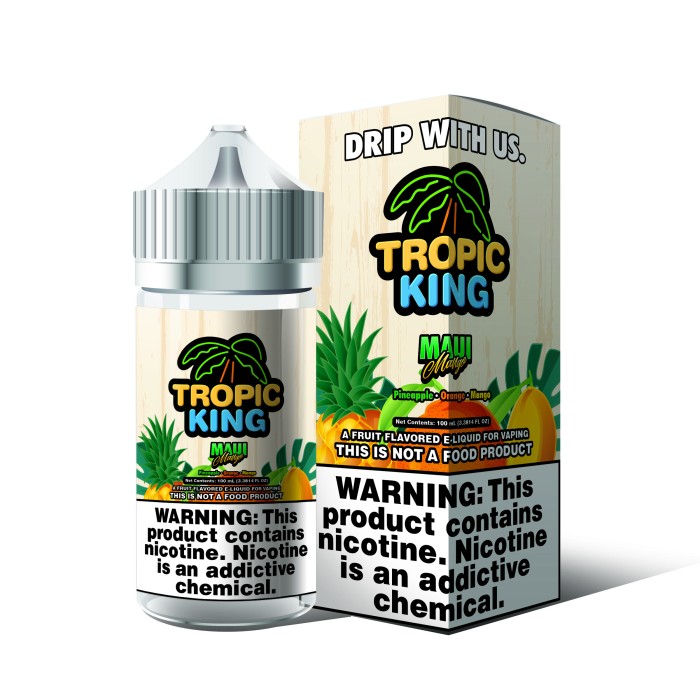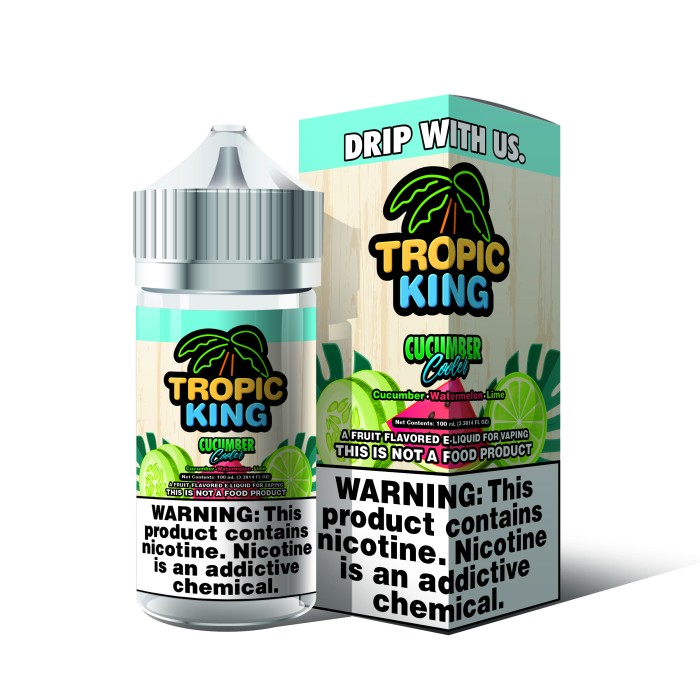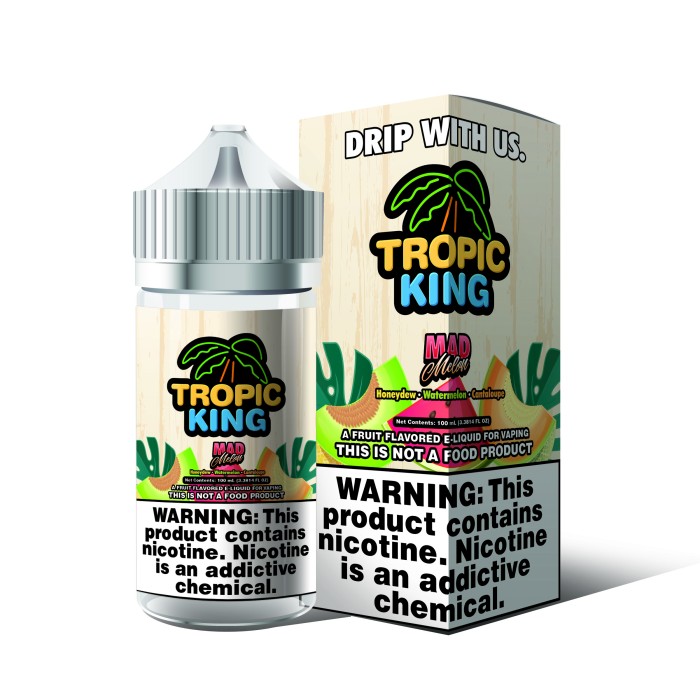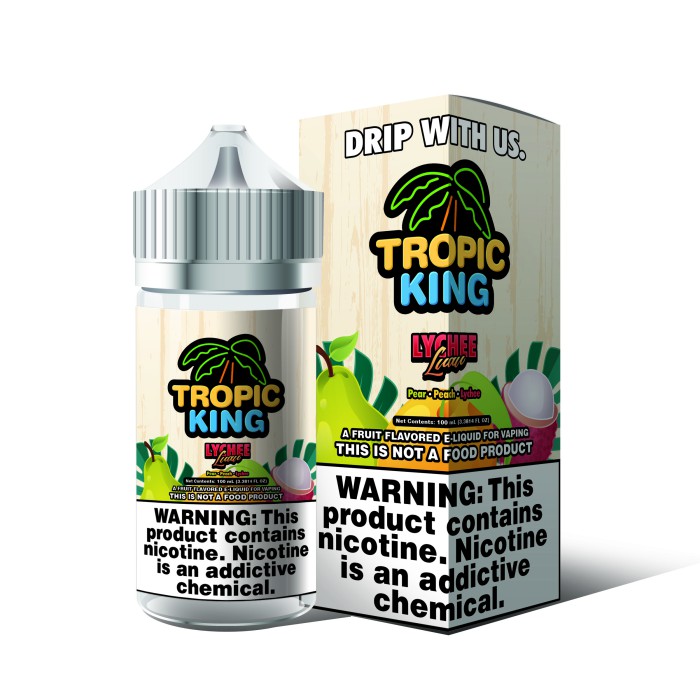 Tropic King E-Liquid
World Wide Vape has been the leading company in providing the best e-liquids in the USA. Tropic King E-Liquid is one of our top selling e-liquids. This vapor liquid is available in a 100ml with the nicotine 0mg, 3mg, 6mg. Our exemplary e-juice has an entirely heavenly taste which vapor fans want to die for!
Tropic King is the newest vape juice line by Dripmore, known for their top selling premium e-liquid lines Like Candy King, Cookie King and Milk King. Tropic King is available in Maui Mango, Berry Breeze, Lychee Lava, Mad Melon, Grapefruit Gust and Cucumber Cooler. Shop for these new tropical fruit flavor e juices at the lowest online vape shop prices. You just can't go wrong with with any juice manufactured by Dripmore. Try it and see for yourself. You won't be disappointed! Enjoy huge saving when you buy at discount wholesale prices. Bad Drip Salt E-Liquid is available in Salt nicotine and comes in a 30ml chubby gorilla bottle with 25mg or 45mg nicotine strengths.
Tropic King E-Liquid Features:
Flavor: Grapefruit, guava, and strawberry.
100mL
70% VG
30% PG
Made in USA
Available Nicotine: 0mg, 3mg, 6mg
Flavors Available:
Grapefruit Gust is the perfect combination of Grapefruit, guava, and strawberry.
Maui Mango is a tasty combination of Pineapple, Orange & Mango
Mad Melon is a tasty combination of juicy with Honeydew, Watermelon & Cantaloupe
Berry Breeze offers a bold combination of juicy Blackberry, Blueberry, Black Currant and Raspberry.
Cucumber Cooler is the perfect combination of Cucumber, watermelon, and lime.
Lychee Luau is a tasty combination of juicy with Pear, Peach & Lychee
The e-liquid is in a gorilla bottle for easy refilling of the kit which minimises any loss of the e-liquid as well as a closure for child protection.
All of our flavors are American made, and contain only the finest ingredients.**
CALIFORNIA PROPOSITION 65 - Warning: This product contains nicotine, a chemical known to the state of California to cause birth defects or other reproductive harm.
Tropic King E-LIQUIDS by Candy King
Tropic King E-LIQUIDS by Candy King
Stock:

In Stock

Brand: Candy King
Product Code:

E-Liquid
Available Options
| Tropic King | Price | Stock | Order Qty |
| --- | --- | --- | --- |
Volume Discounts
Save with Volume Discounts & Tailored Tiered Pricing