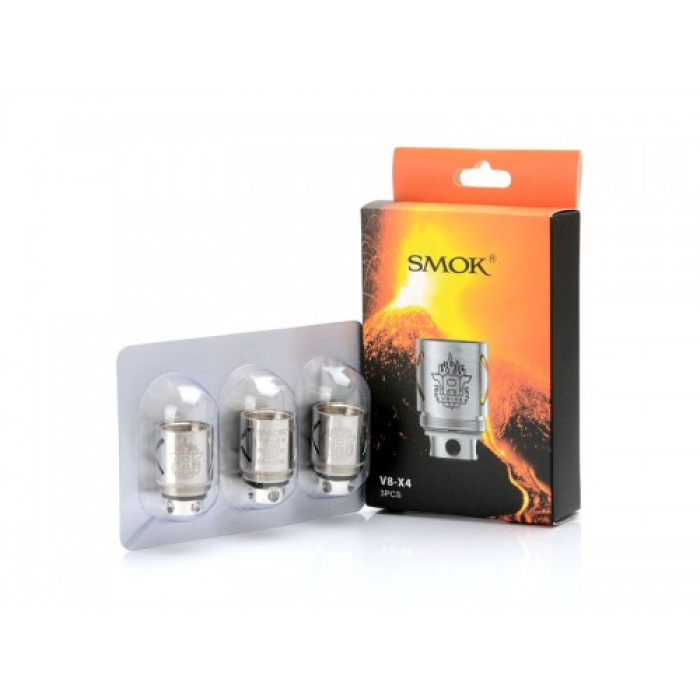 TFV8-X4 REPLACEMENT COILS BY SMOK (3-Pcs Per Pack) 10pk/Box
World Wide Vape is the leading provider of vape e-cigarette coils in the USA. TFV8 - X4 Replacement Coils by Smok is one of the best selling coils available in the market.
The TFV8 V8-X4 features 0.15 ohm resistance which can support 60~150W power output, best for 80~120W. Comes with double-barreled pistol design and CF mate, this TFV8 V8-X4 core is a wonderful design for cloud & flavor chasing enthusiasts! High-quality materials are utilized in these coils, additionally, the airflow system is very sophisticated that enables the TFV8 - X4 Replacement Coils by Smok to deliver great flavors and bigger clouds. TFV8 - X4 Replacement Coils by Smok and other vape e-cigarette coils are widely available at our website. In addition, you can also buy vape e-liquids, mods, tanks, and accessories at cheaper price from our website World Wide Vape.
TFV8 - X4 Replacement Coils by Smok (3-Pcs Per Pack)
TFV8 - X4 Replacement Coils by Smok (3-Pcs Per Pack)
Stock:

In Stock

Brand: Smoktech
Product Code:

6179
Volume Discounts
Save with Volume Discounts & Tailored Tiered Pricing