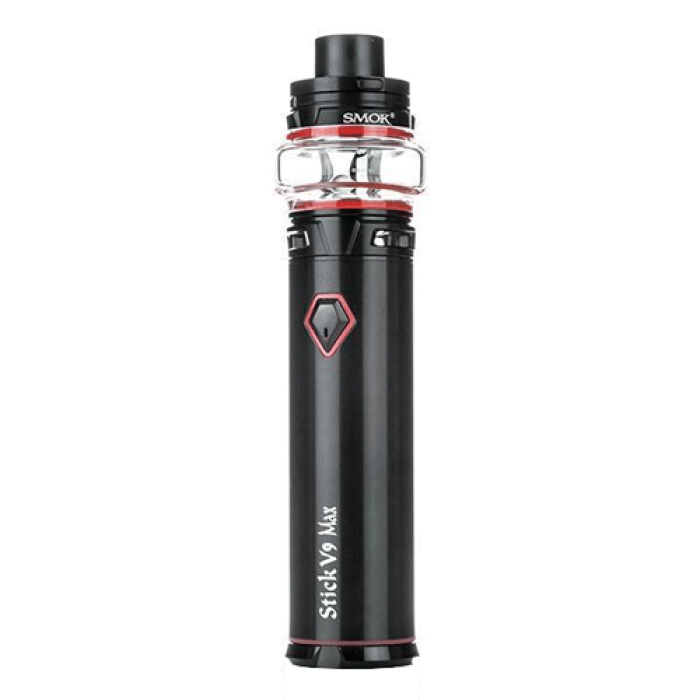 Restocking Soon
Stick V9 Kit by Smok
World Wide Vape is the leading provider of vape e-cigarette kits in the USA.Stick V9 Kit by Smok is one of the best selling portable e-cigarette kits available in the market. We offer the Stick V9 Kit by Smok in a durable design. It is a small portable all in one e-cigarette kit that is much easy to carry and use.
Stick V9 Kit, is comes with a built-in 3000mAh battery and TFV8 Baby V2 tank, which uses Pyrex Glass Tube #7 with 5ml large e-liquid capacity, ensuring a carefree vaping life. This kit adopts Baby V2 S1 Coil and Baby V2 S2 Coil, which are custom-made coils for Stick series battery, focusing on lower wattage but intense clouds and flavor. Stick V9 series has debuted, and it's better than ever. This vaping device is integrating a massive built-in 3000mAh battery to ensure a longtime vaping and massive cloud of vapor. Stick V9, another new stick solider of Stick V9 series, has the same appearance and similar functionality as Stick V9. When holding Stick V9 series in your hand, you can feel how exquisite it is, and the carefully carved battery bottom makes the kit an artwork. Stick V9 series has LED indicator to tell you the accurate conditions of itself. If pressing the Power Button twice in a row within one second, you'll see the current battery power status and three kinds of indicator colors on the lower part of the pentagon represent various battery levels. For instance, Green Light: above 70% battery power remaining, Orange Light: 30%-70% battery power remaining, and Red Light: below 30% battery power remaining. Besides, the LED indicator will flash 15 times when the voltage is lower than 3.3V. Stick V9 Max tank is the largest tank ever designed by SMOK. Even bigger bulb glass tube. Even larger filling slot that can easily drip e-liquid into the tank. Upgraded airflow system with even wider three airflow slots.
Stick V9 Kit by Smok Features:
Weight - 65 g
28mm Base Diameter
30mm At Widest Point
8.5mL Maximum Juice Capacity - Convex Glass Extension
Superior Stainless Steel Construction
High-Grade Glass Reinforcement
High-Temperature Resistant - Explosion Proof
Convenient Top-Fill Rotary Design - Lock Button Mechanism
Massive Triple Adjustable Airflow Control at Base
Performance-Grade TFV8 Baby V2 Coil System
0.15ohm Baby V2 S1 Single Mesh Coil
0.15ohm Baby V2 Quad Coil
Antibacterial Medical Cotton
16mm Wide Delrin Widebore Drip Tip - Exclusive Fitment
Gold-Plated 510 Connection
Package Includes:
1 Stick V9 Battery
1 Stick V9 Tank
0.15ohm Baby V2 S1 Single Mesh Coil
0.15ohm Baby V2 Quad Coil
1 MicroUSB Cable
1 Spare Parts Bag
1 Instructional Manual
Stick V9 Kit by Smok and other vape e-cigarette kits are widely available at our website. In addition, you can also buy vape e-liquids, mods, tanks, and accessories at cheaper price from our website World Wide Vape.
WARNING: Please have a great understanding and technical knowledge on how to use this product in order to properly use it. There is always an inherent risk when using any rechargeable batteries at anytime and under any circumstances. World Wide Vape Distribution and any of World Wide Vape Distribution's parent and subsidiary companies are not held responsible for any damage for any modification of the batteries, chargers, devices and other products that we carry in any form or shape, this is including pack making.

World Wide Vape Distribution and any or all of World Wide Vape Distribution's parent and subsidiary companies will not be held responsible or liable for any injury, damage, or defect, permanent or temporary that may be caused by the improper use of a Li-ion (Lithium-ion), LiPo (Lithium-ion Polymer) and any rechargeable battery and/or batteries as well as chargers. Please have a greater understanding of the batteries and/or chargers you are using and how to care for them properly.
This product contains nicotine. Nicotine is an addictive chemical.
Stick V9 Kit by Smok
Stick V9 Kit by Smok
Stock:

Restocking Soon

Brand: Smoktech
Product Code:

Kit
Available Options
| Colors | Price | Stock | Order Qty |
| --- | --- | --- | --- |
Volume Discounts
Save with Volume Discounts & Tailored Tiered Pricing