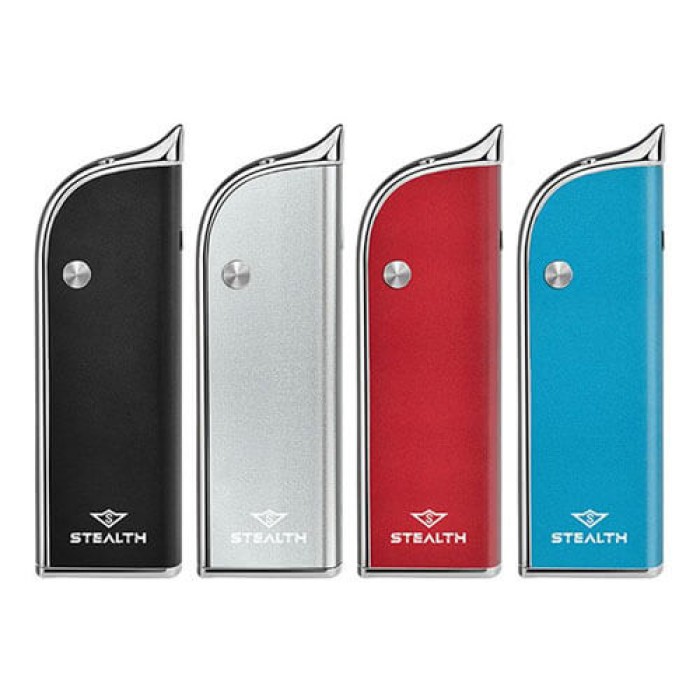 Restocking Soon
Stealth 2-in-1 Kit by Yocan
World Wide Vape is the leading provider of vape e-cigarette kits in the USA. Stealth 2-in-1 Kit by Yocan is one of the best selling portable e-cigarette kits available in the market. We offer Stealth 2-in-1 Kit by Yocan in a durable design. It is a portable kit that is much easy to carry and use.
Stealth 2-in-1 Kit is a powerful 2-in-1 portable wax vaporizer that can easily be concealed and stashed in your pocket, in your bag, and even in the palm of your hands. Falling into the category of average sized portable vaporizers at around 4 inches tall and a little lighter than the regular vape. This means that the Stealth can easily be carried around without that unnecessary weight and bulk. One can easily take it out and just easily place it back after several satisfying hits, what's more, is that the Yocan Stealth vaporizer features a leak-proof design making it extremely travel-friendly letting you worry less about spills and leakage whichever way you keep it. If you're tired of cleaning stains on your clothes and wiping off oil in your bag then the Yocan Stealth is the best vaporizer for you.
Apart from its leak-proof design, the Yocan Stealth surprisingly comes with a lanyard insert which allows you to take the Yocan Stealth with you even if you're carrying bags chock full of stuff or if you've got your pockets occupied with things you can't carry with your hands. Just sling the Yocan Stealth on your neck and bring it with you as you travel, its inconspicuous design makes it look more like a USB dongle or an external memory for your laptop rather than a portable vaporizer.
Yocan Stealth 2-in-1 Kit Features:
Flip-Top Box Mod
Leak-Proof Design
Micro USB Charging
Powerful 650mAh Box Mod
510 Threaded Connections
Lanyard Compatible For Easier Carrying
Compatible With E-Liquids and Wax Concentrates
Uses Quartz Coil Concentrate Atomizer and Ceramic Coil E-Liquid Atomizer
Package Includes:
1 x Yocan Stealth Box Mod
1 x E-Juice Atomizer
1 x Wax Concentrate Atomizer
1 x Pick Tool
1 x Micro USB Cable
Yocan Stealth 2-in-1 Kit and other vape e-cigarette Kits are widely available at our website. In addition, you can also buy vape e-liquids, mods, tanks, and accessories at cheaper price from our website World Wide Vape.
WARNING: Please have a great understanding and technical knowledge on how to use this product in order to properly use it. There is always an inherent risk when using any rechargeable batteries at anytime and under any circumstances. World Wide Vape Distribution and any of World Wide Vape Distribution's parent and subsidiary companies are not held responsible for any damage for any modification of the batteries, chargers, devices and other products that we carry in any form or shape, this is including pack making.

World Wide Vape Distribution and any or all of World Wide Vape Distribution's parent and subsidiary companies will not be held responsible or liable for any injury, damage, or defect, permanent or temporary that may be caused by the improper use of a Li-ion (Lithium-ion), LiPo (Lithium-ion Polymer) and any rechargeable battery and/or batteries as well as chargers. Please have a greater understanding of the batteries and/or chargers you are using and how to care for them properly.
This product contains nicotine. Nicotine is an addictive chemical.
Stealth 2 in 1 Kit by Yocan
Stealth 2 in 1 Kit by Yocan
Stock:

Restocking Soon

Brand: Yocan
Product Code:

Kit
Available Options
| Colors | Price | Stock | Order Qty |
| --- | --- | --- | --- |
Volume Discounts
Save with Volume Discounts & Tailored Tiered Pricing