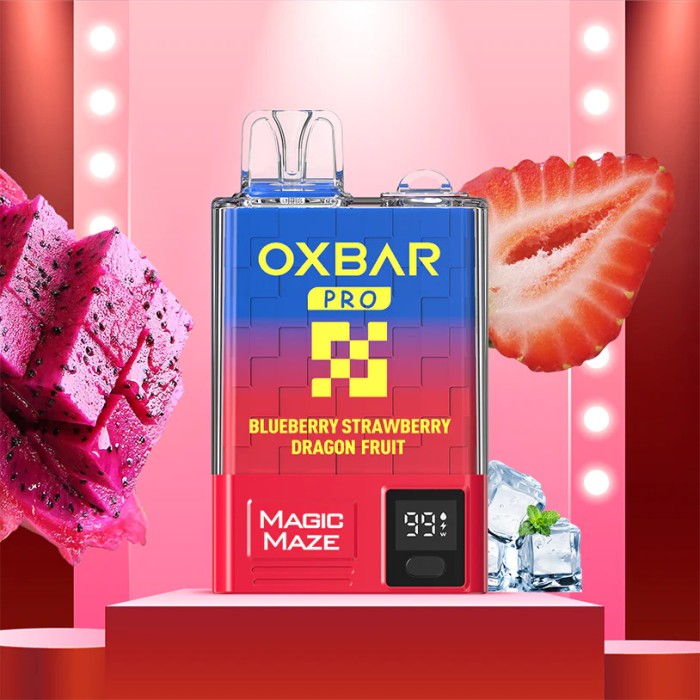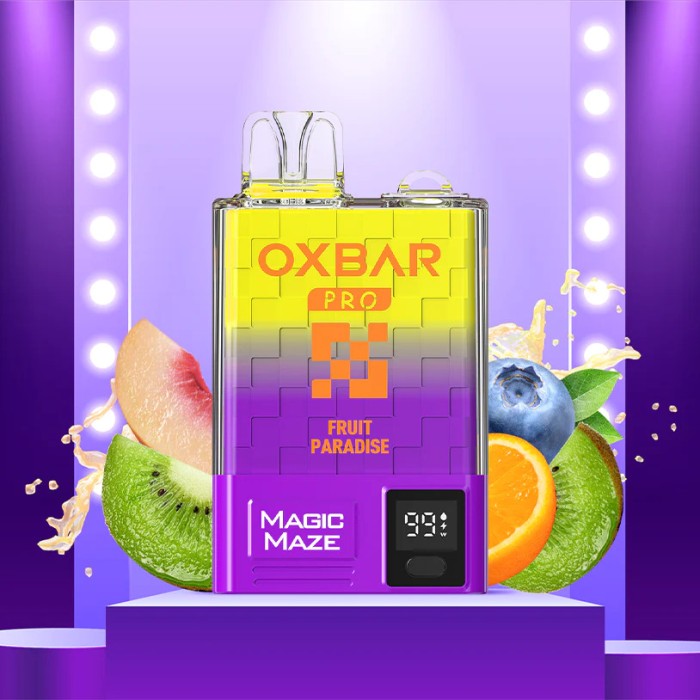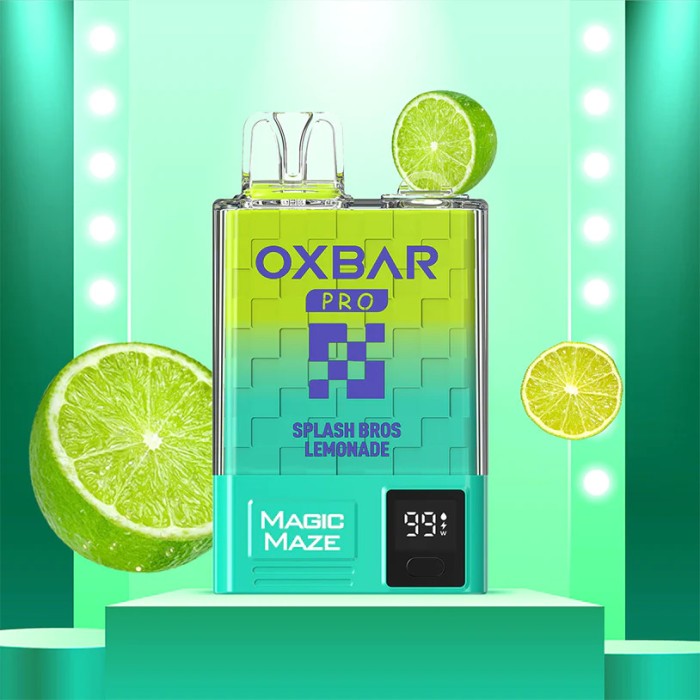 New
INTRODUCING THE WORLD'S FIRST ADJUSTABLE WATTAGE DISPOSABLE: MAGIC MAZE PRO 10K
Experience the OXBAR Magic Maze Pro, offering an impressive 10,000 puffs of enduring satisfaction. Gain complete control over your vaping journey with an adjustable wattage range, allowing you to switch seamlessly between Restricted Direct Lung (RDL) and Mouth-to-Lung (MTL) vaping styles, all thanks to customizable airflow control. Stay informed with the intuitive display, providing real-time updates on e-liquid levels, battery life, and wattage settings. Crafted with durable PC material, it effortlessly combines style and durability.
Key Features:
Over 10,000 puffs
Equipped with a 1.0Ω mesh coil
Type-C Charging for your convenience
Adjustable Wattage to suit your preferences
Smart LED display to keep you informed
Bottom Adjustable Airflow for a tailored experience
Take command of your vaping experience with precise wattage adjustment, effortlessly switching between 11W and 15W at the press of a button.
Stay Informed with the Smart LED Display: This innovative display showcases essential information, including e-liquid levels and power settings, ensuring a hassle-free vaping experience.
Customize Your Airflow: Our bottom adjustable airflow feature allows you to fine-tune your vaping experience, transitioning between MTL and RDL effortlessly.
Explore a Variety of Flavors: Choose from our selection of 10 unique flavors, all promising excellent taste.
Free Custom Lanyard: Stand out with an exclusive and personalized hanging rope design, adding a touch of uniqueness to your vaping setup.
Specifications:
Puffs: 10,000 puffs
Charging via Type-C
Nicotine: 50mg
Resistance: 1.0Ω
Material: PC
Size: 88mm*50.0mm*22.2mm
Weight: 80.5g
Flavors:
Blue Razz: A delightful blend of blue raspberry sweetness that's both tangy and refreshing.
Blueberry Strawberry Dragon Fruit: An exotic mix of blueberries, strawberries, and dragon fruit for a fruity explosion.
Fruit Paradise: Dive into a paradise of mixed fruits that will take your taste buds on a tropical journey.
Rainbow Blast: A burst of colorful, candy-like flavors that will bring back childhood memories.
Razz Pineapple: The perfect combination of ripe raspberries and juicy pineapple for a sweet and tart experience.
Sakura Grape: Experience the floral notes of cherry blossoms combined with the sweet essence of grapes.
Splash Bros Lemonade: A refreshing lemonade blend that's perfect for quenching your thirst on a hot day.
Strawberry Kiwi Ice: The classic duo of strawberries and kiwi with an icy twist for a cool and fruity vape.
Strawberry Watermelon: Sweet strawberries paired with juicy watermelon to create a mouthwatering fusion.
Watermelon Remix Ice: A remix of watermelon flavors with an icy kick for a refreshing and invigorating vape.
Discover OXBAR: OXBAR is an emerging and rapidly growing vaping brand. Developed by the original OXVA team, with over a decade of involvement in the e-cigarette industry, they bring a wealth of technical, marketing, and production expertise to the table.
OXBAR Magic Maze Pro 10K Disposable (10000 Puffs)
OXBAR Magic Maze Pro 10K Disposable (10000 Puffs)
Stock:

In Stock

Brand: OXBAR
Product Code:

Disposable
Available Options
| OXBAR Magic Maze Pro Flavors | Price | Stock | Order Qty |
| --- | --- | --- | --- |
Volume Discounts
Save with Volume Discounts & Tailored Tiered Pricing