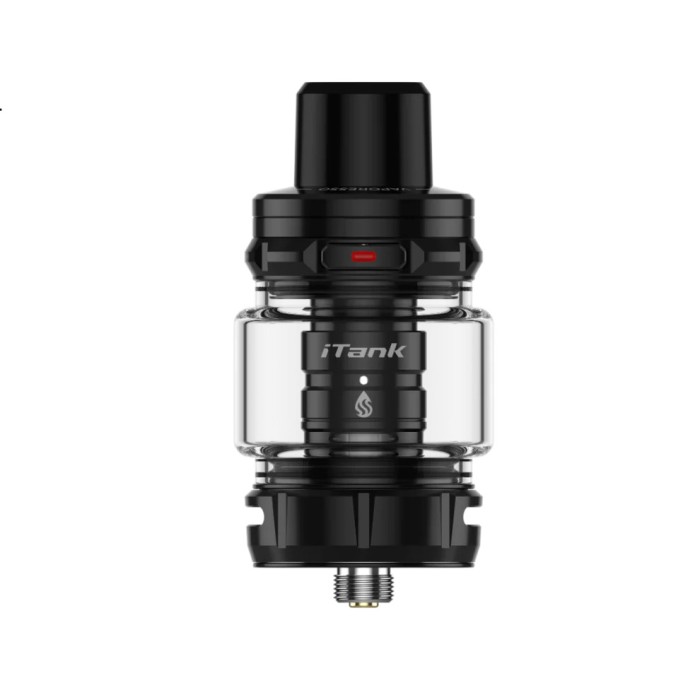 Restocking Soon Coming Soon
Introducing the VAPORESSO iTank 2 for DTL Vaping
Upgrade your vaping experience with the iTank 2, the enhanced version of the popular iTank. This premium subohm tank is designed for Direct-to-Lung (DTL) vaping, offering exceptional performance and flavor. Featuring the innovative COREX Heating technology integrated into the GTi coil, it ensures more precise flavor delivery and an extended coil lifespan.
Key Features:
Worry Less and Expect More Flavor
810 Drip Tip for a comfortable vaping experience
Convenient Press-And-Auto-Open Filling System
Generous 8ml E-liquid Capacity
Cutting-Edge COREX Heating Technology
Liquid Self-cleaning System for a cleaner vape
Specifications:
Dimensions: 59.8 x 30 mm
Tank Capacity: 8ml (2ml TPD version also available)
Coil Resistance Options: GTi 0.2Ω MESH Coil (60-75W) and GTi 0.4Ω MESH Coil (50-60W)
Charging Current: DC 5V/2A, Type-C
The iTank 2 offers more power options with full compatibility for all GTi coils, making it versatile for different vaping preferences. Its leak-resistant design and self-cleaning system prevent condensation buildup and leakage, ensuring a worry-free experience.
Experience Accurate Flavor and Extended Coil Life: The iTank 2 boasts a unique Morph-Mesh structure and fluffier COREX cotton, creating denser vapor and increasing coil lifespan by 50%.
What's Included in the Box:
1 x VAPORESSO iTank 2
1 x GTi 0.2Ω MESH Coil (60-75W)
1 x GTi 0.4Ω MESH Coil (50-60W)
1 x Extra Glass Tube
3 x O-rings
1 x Refilling Silicone Plug
1 x User Manual
Please note: This product contains nicotine and is intended for adult users of nicotine-containing products, particularly current smokers or vapers. Underage sale is prohibited.
iTank 2 (8 mL) by Vaporesso
iTank 2 (8 mL) by Vaporesso
Stock:

2 - 3 Days

Brand: Vaporesso
Product Code:

Tank
Available Options
| Choose Ohms | Price | Stock | Order Qty |
| --- | --- | --- | --- |
Volume Discounts
Save with Volume Discounts & Tailored Tiered Pricing