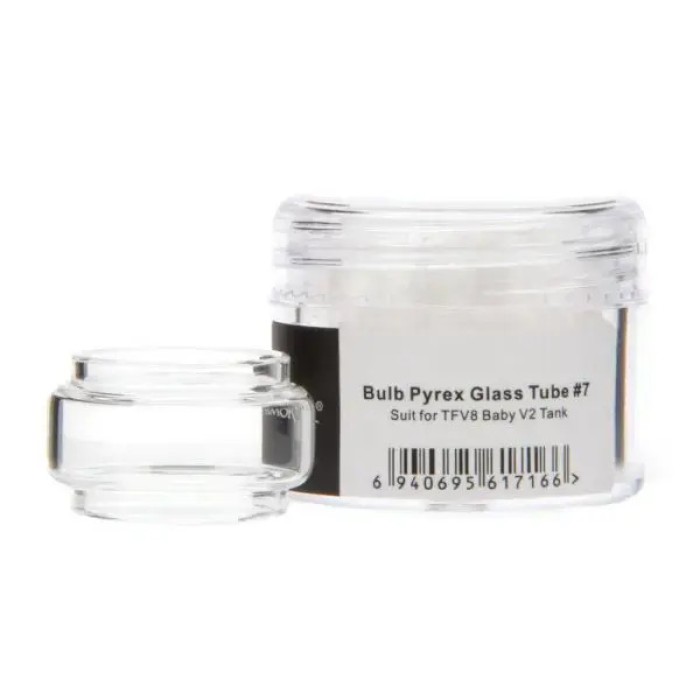 Compatible With:
Enhance the performance and durability of your favorite SMOK tanks with the SMOK Bulb Pyrex Glass Tube. Designed as a reliable replacement accessory, this high-quality glass tube offers superior strength and improved e-liquid capacity. Crafted with precision and engineered to withstand daily use, the Bulb Pyrex Glass Tube ensures a satisfying vaping experience without compromising on style or functionality.
Upgrade your vaping experience with the SMOK Bulb Pyrex Glass Tube. This exceptional replacement accessory is designed specifically for SMOK tanks, offering a range of benefits that elevate your vaping sessions to new heights. Here are some key features and advantages:
Enhanced Durability: Crafted from premium-grade Pyrex glass, the Bulb Glass Tube offers exceptional durability, ensuring resistance to accidental drops and impacts. Say goodbye to the worries of fragile glass tubes and enjoy a longer-lasting vaping accessory.
Increased E-Liquid Capacity: The bulb shape of the glass tube allows for an increased e-liquid capacity, reducing the frequency of refills during extended vaping sessions. With a larger tank capacity, you can enjoy more puffs and uninterrupted vaping pleasure.
Crystal Clear Visibility: The high-quality Pyrex glass construction provides excellent transparency, allowing you to easily monitor your e-liquid level. Stay in control and avoid any unexpected dry hits or burnt coils by instantly knowing when it's time for a refill.
Easy Installation: The SMOK Bulb Pyrex Glass Tube is designed for hassle-free installation. Simply remove the old glass tube and replace it with the Bulb Glass Tube to enjoy a seamless transition. No complicated procedures or tools required.
Versatile Compatibility: This replacement accessory is compatible with a wide range of SMOK tanks, making it a versatile choice for vapers using various models. Ensure a perfect fit for your favorite SMOK tank and continue enjoying your vaping experience without interruption.
Elevate your vaping experience with the SMOK Bulb Pyrex Glass Tube. This durable replacement accessory enhances the durability of your SMOK tanks while increasing e-liquid capacity. With its crystal clear visibility and easy installation, this versatile glass tube offers convenience and performance. Upgrade your vaping setup today and enjoy longer, uninterrupted vaping sessions with the SMOK Bulb Pyrex Glass Tube.
Bulb Pyrex Glass Tube #7 (5ml) by Smok
Bulb Pyrex Glass Tube #7 (5ml) by Smok
Stock:

In Stock

Brand: Smoktech
Product Code:

Glass
Volume Discounts
Save with Volume Discounts & Tailored Tiered Pricing