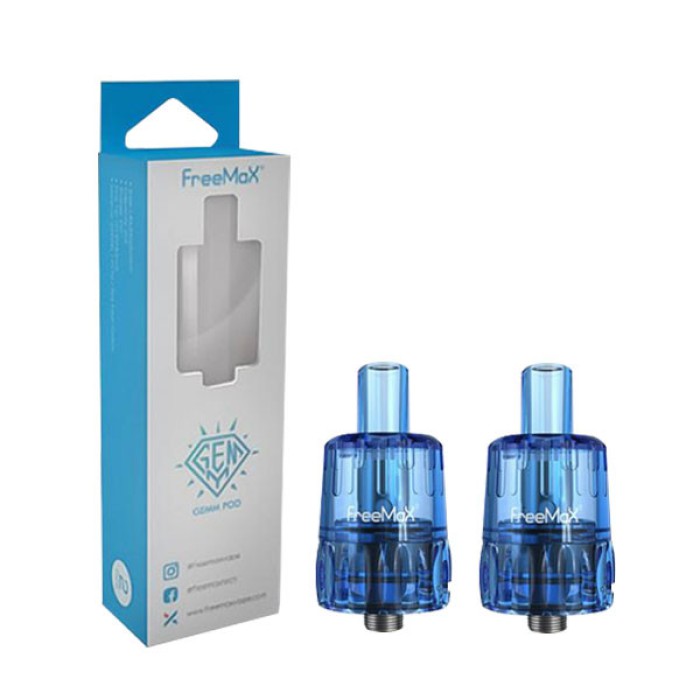 Introducing the innovative Gemm Pod by FreeMax, a revolutionary vaping device that combines sleek design with powerful performance. Engineered to deliver an exceptional vaping experience, the Gemm Pod offers convenience, portability, and outstanding flavor production. Whether you're a beginner or an experienced vaper, the Gemm Pod is designed to meet your vaping needs. With its cutting-edge features and stylish design, this device is set to elevate your vaping journey to new heights.

The Gemm Pod by FreeMax is a game-changer in the world of vaping. Packed with advanced features and a user-friendly design, this pod system delivers an unmatched vaping experience. Here are some key highlights:
Innovative Gemm Pod Design: The Gemm Pod boasts a sleek and compact design that fits comfortably in your hand and pocket. It features a durable construction and a transparent pod, allowing you to easily monitor your e-liquid levels.
Powerful Performance: Equipped with a built-in 1300mAh battery, the Gemm Pod ensures long-lasting vaping sessions without frequent recharging. With its 3-level adjustable power output, you can customize your vaping experience according to your preferences.
Mesh Coil Technology: The Gemm Pod utilizes advanced mesh coil technology, which provides rapid and even heating for intense flavor and dense vapor production. Say goodbye to dry hits and enjoy the purest taste with every puff.
Convenient Side-Filling System: The Gemm Pod features a convenient side-filling system that makes refilling a breeze. Simply remove the silicone plug and fill the pod with your favorite e-liquid without any mess or hassle.
Multiple Safety Protections: Your safety is a top priority. The Gemm Pod is equipped with a range of safety features, including over-charge protection, over-discharge protection, short circuit protection, and more. Vape with peace of mind, knowing that you're protected.
Experience vaping like never before with the Gemm Pod by FreeMax. Whether you're a flavor enthusiast, cloud chaser, or someone looking for a reliable and convenient vaping device, the Gemm Pod has it all. Its cutting-edge features, sleek design, and exceptional performance make it a standout choice in the world of pod systems. Upgrade your vaping experience and embrace the future of vaping with the Gemm Pod. Visit FreeMax Vape's website today and explore the world of limitless possibilities.
Gemm Replacement Pods by Freemax
Gemm Replacement Pods by Freemax
Stock:

In Stock

Brand: FreeMax
Product Code:

Pod
Available Options
| Choose Ohms | Price | Stock | Order Qty |
| --- | --- | --- | --- |
Volume Discounts
Save with Volume Discounts & Tailored Tiered Pricing