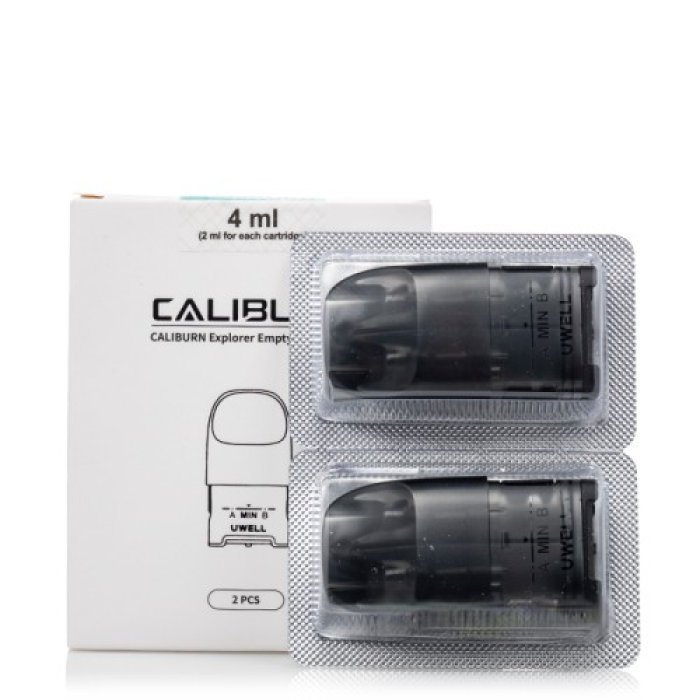 New
Uwell Caliburn Explorer Replacement Pods - Pack of 2
Discover the Convenience of Uwell Caliburn Explorer Replacement Pods, now available in a cost-effective 2-Pack. These pods offer a generous 2mL capacity each, adjustable directional airflow, and are compatible with the G and G2 Coils. Crafted from durable PCTG material, the Caliburn Explorer Pods are designed for seamless flavor changes, accommodating 2mL of e-liquid in each chamber. With two distinct airflow options at the base, you can easily switch between Mouth to Lung (MTL) and Restricted Direct Lung (RDL) vaping styles for unparalleled versatility.
Key Features of Uwell Caliburn Explorer Replacement Pods:
Pod Capacity: 4mL (2 x 2mL)
Material: PCTG
Fill System: Dual Side Fill System
Coil Compatibility: Caliburn G/G2 Coils
Coil Installation: Press Fit
Pod Connection: Snap-In
Directional Airflow
Sold in a Pack of Two (2)
Note: Properly prime each coil and pod before use.
Safety Notice
If the coils have a sub-ohm resistance, it is essential to have a solid understanding and technical knowledge of mod and battery usage suitable for sub-ohm coils. Do not use sub-ohm coils on devices with a short or flat 510 connection or any hybrid-style device. If you are unsure about specific products or setups, refrain from using them. Always prioritize safety and follow proper precautions and handling procedures.
Important Battery Safety Information
Using rechargeable batteries carries inherent risks under any circumstances. wwvape.com and its parent and subsidiary companies cannot be held responsible for any damage resulting from battery, charger, device, or product modifications in any form. This includes pack assembly.
wwvape.com and its parent and subsidiary companies will not be liable for injuries, damage, or defects, either temporary or permanent, that may occur due to the improper use of Li-ion (Lithium-ion), LiPo (Lithium-ion Polymer), and any other rechargeable batteries, as well as chargers. Understanding your batteries and chargers is crucial, so ensure you have in-depth knowledge before use.
When working with Li-ion (Lithium-ion), LiPo (Lithium-ion Polymer), and any rechargeable cells, exercise caution and handle them with care. These batteries are sensitive to charging characteristics and may pose risks of explosion or burning if mishandled. Charge batteries only on clean, fire-resistant surfaces, and never leave charging batteries unattended. If you observe visible damage on batteries, avoid using them. Always store rechargeable cells in a safe, non-conductive container within a controlled environment.
Please Note: Worldwide Vape provides Product Information, which may include technical specifications, recommendations, and other materials for your convenience in selecting products. However, the accuracy and completeness of Product Information are not guaranteed and may change without notice.
Caliburn Explorer Replacement Pod Cartridge Kit by Uwell
Caliburn Explorer Replacement Pod Cartridge Kit by Uwell
Stock:

In Stock

Brand: Uwell
Product Code:

Pod
Volume Discounts
Save with Volume Discounts & Tailored Tiered Pricing