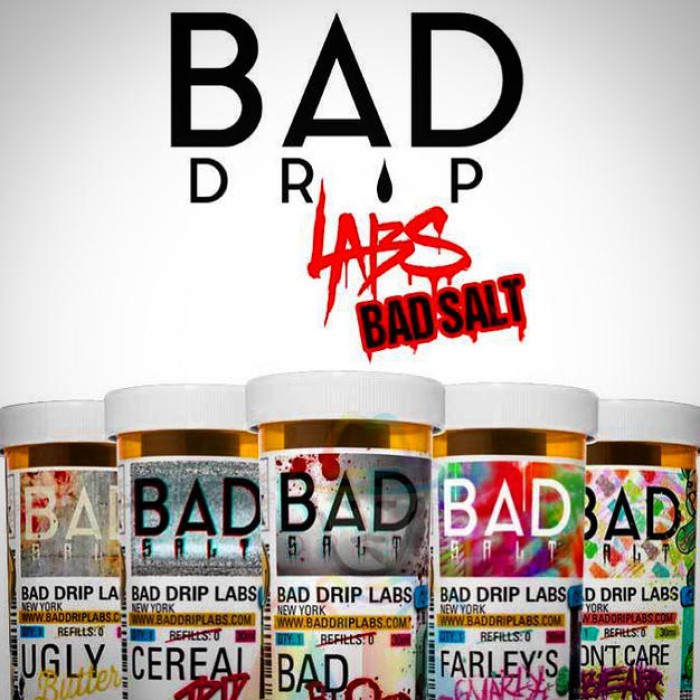 Bad Drip Salt E-Liquid
World Wide Vape has been the leading company in providing the best e-liquids in the USA. Bad Drip Salt E-Liquid is one of our top selling e-liquids. This vapor liquid is available in a 30ml with the nicotine strength of 25mg, 45mg. Our exemplary e-juice has an entirely heavenly taste which vapor fans want to die for!
The Bad Drips Nic Salt collection consists of wacky and whimsical flavors that contain high-quality nicotine salts in order to satisfy you in every way. Bad Drip Salt E-Liquid is blended from the finest ingredients to offer the most tastiest and enhanced vaping experience possible! Bad Drip Salt E-Liquid always delivers ultimate flavor and enormous clouds. All unique flavors in their own right, there is something for everyone in the complete line-up. Bad Drip Salt E-Liquid is available in Salt nicotine and comes in a 30ml chubby gorilla bottle with 25mg or 45mg nicotine strengths.
Bad Drip Salt E-Liquid Features:
30mL Chubby Unicorn Bottle
Nicotine Salts Formulation
Crafted For Ultra-Low Wattage & Pod-Based System
Child-Resistant Cap
Made in USA
50% VG
50% PG
Manufactured by Bad Drip
Available Nicotine: 25mg and 45mg
Flavors Available:
Don't Care Bear Salt by Bad Drip Salt is the flavor of gooey sticky bears splashed through with a succulent concoction of pear and peach. A fruity blend of naturally sweet peach and pear fruits with a base of treats sticky bear treats.
Ugly Butter Salt by Bad Drip Salt is the flavor of a singed mixture covered in genuine banana pudding, finished with clues of cinnamon sugar. A scrumptiously tasty E-fluid flavor ensured to stun. Smooth and thick. Rich and unadulterated.
Farley's Gnarly Sauce Salt by Bad Drip Salt is a one of a kind blend of kiwi-covered confections, bubblegum, and new good country strawberries. A sweet and fruity mix with layered complexities that gives a unique and remarkably scrumptious E-Liquid experience.
Cereal Trip Salt by Bad Drip Salt is a scrumptious marriage between the two tasty breakfasts works of art. Warm and cushy coated doughnuts finished with sugary fruity oat, completed off with the appetizing and smooth taste of chilly drain. Cereal Trip will take you on a sweet support trip.
Bad Blood Salt by Bad Drip Salt is developed by the great minds at Bad Drip Labs. Blueberry, pomegranate, and vanilla swirled and blended to create a sweet and enchanting flavor. Real fruit extracts with quality vanilla make for a tasty experience unlike any other. Deep flavors coalesce into a concoction that's sure to amaze.
The e-liquid is in a gorilla bottle for easy refilling of the kit which minimises any loss of the e-liquid as well as a closure for child protection.
All of our flavors are American made, and contain only the finest ingredients.**
CALIFORNIA PROPOSITION 65 - Warning: This product contains nicotine, a chemical known to the state of California to cause birth defects or other reproductive harm.
Bad Drip Salt E-Liquid
Bad Drip Salt E-Liquid
Stock:

In Stock

Brand: Bad Drip
Product Code:

E-Liquid
Available Options
| Bad Drip Salt | Price | Stock | Order Qty |
| --- | --- | --- | --- |
Volume Discounts
Save with Volume Discounts & Tailored Tiered Pricing