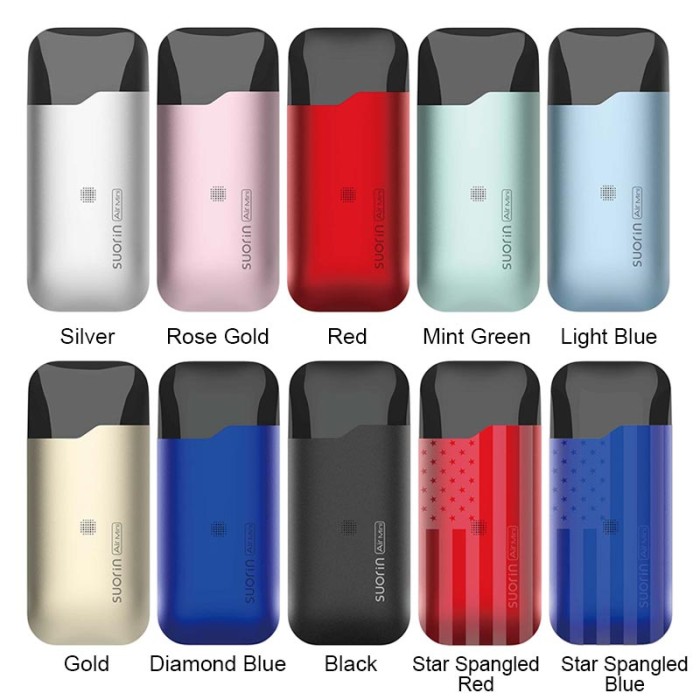 Introducing the Suorin Air Mini: Your Perfect Vaping Companion
Experience the ultimate in compact vaping with the Suorin Air Mini. Designed to redefine convenience and style, this sleek pod system delivers exceptional performance in a pocket-sized package. Whether you're a novice vaper or an experienced enthusiast, the Suorin Air Mini offers a vaping experience like no other.
Key Features:
- Pocket-Sized Perfection: The Suorin Air Mini's ultra-compact design fits comfortably in your hand and slips seamlessly into your pocket, making it your ideal on-the-go vaping companion.
- Refillable 2ml Pod: Say goodbye to constant refills. The Suorin Air Mini features a 2ml refillable pod, allowing you to enjoy your favorite e-liquids without the hassle of carrying extra bottles.
- Efficient 400mAh Battery: With a powerful 400mAh battery, the Suorin Air Mini keeps you vaping throughout the day. Quick and convenient micro-USB charging ensures minimal downtime.
- Draw-Activated Firing: No buttons, no fuss. Simply inhale to activate the device and enjoy a smooth, satisfying vape with every puff.
- Optimized Airflow: Experience effortless draws and enhanced flavor with the Suorin Air Mini's well-designed airflow system, providing a comfortable and satisfying vaping experience.
- LED Battery Indicator: The LED indicator lets you know your battery status at a glance, ensuring you're always aware of when it's time for a recharge.
- Modern Aesthetics: The sleek and modern design of the Suorin Air Mini not only delivers exceptional performance but also adds a touch of sophistication to your vaping setup.
- Easy Pod Replacement: Changing pods has never been easier. Simply remove the old pod and snap in a new one to continue enjoying your vaping session.
Elevate your vaping journey with the Suorin Air Mini, where convenience, performance, and style come together to create an unparalleled vaping experience. Whether you're a busy professional, a social butterfly, or simply prefer a compact device, the Suorin Air Mini is the perfect choice. Discover the freedom of portable vaping and experience the future of convenience with Suorin Air Mini.
Air Mini Kit by Suorin
Air Mini Kit by Suorin
Stock:

In Stock

Brand: Suorin
Product Code:

Suorin
Available Options
| Colors | Price | Stock | Order Qty |
| --- | --- | --- | --- |
Volume Discounts
Save with Volume Discounts & Tailored Tiered Pricing