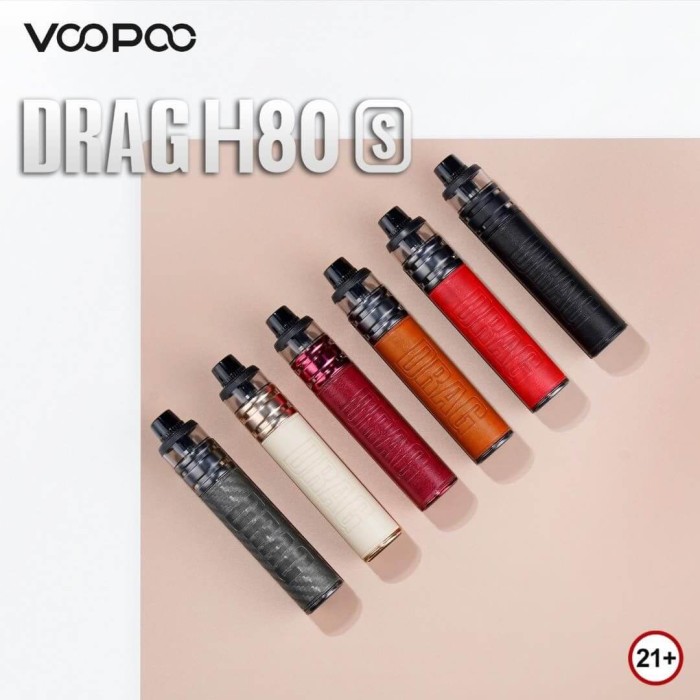 Multiple Innovations Enhance Vapor and Upgrade flavor
 Unique Airway Structure Smooths the Airflow
The unique designed airway with a basin shaped structure gathers smooth and soft airflow. The basin also holds the condensate for easier cleaning.
Dual In One Tech Coil Enhances the Dense Flavor
The new PnP coil was ingeniously upgraded in structure design, in which the Dual In One Tech fastens the temperature rise and effectively atomizes every e-liquid and realizes a rich cloud and fine taste. Meanwhile, it improves the atomization efficiency by consuming less e-liquid.
Integrated Design, Easy to Enjoy Professional Device
 Integrated Design, Comfortable in Grip
DRAG H80S is the most compact DRAG ever. The integrated design makes DRAG H80S 15% smaller in size than DRAG X. Air adjusting rotating gear, oil-filling hole and magnetic battery cover are all integrated into the body, which is more tactile and comfortable in grip.
Top Filling Design, Easy to Operate
There is no need to pull out the pod or press the silicone plug, just unscrew the cover of mouthpiece, and fill e-liquid from the oil filling hole. Besides, the full-view oil container clearly shows you the remaining amount of oil.
Pod Airflow Adjustment, Sleek in Look and Easy to Use
Rotating the pod to adjust the airflow with asymmetric air inlets. Simple to taste different yet look sleek. The crenation gear coupling and magnetic design at the bottom of the pod make each inserting tight and pulling out with ease.
Magnetic Battery Cover, Durable and Easy to Install
DRAG H80S is compatible with single 18650 external battery. The innovative magnetic battery cover is easy to install and cover the battery tightly. It's durable and easy to operate.
New UI Design, Joyful Interaction
The new UI interface integrates the menu and reduces the button combinations to simplify the operation. Also, the dynamic charging interaction becomes more vivid and user-friendly.
ECO Mode, Keep Vaping When Battery is Low
With the innovative ECO Mode, DRAG H80S provides you more lasting vaping experience. Activating the ECO Mode increases 10% more vaping puffs, which meet the needs under low battery capacity. When the battery capacity is 40% left, the interface will display the ECO Mode interface. And you can choose whether to enter.
GENE.TT 2.0 Chip, Strong Boosting
GENE.TT 2.0 has the most powerful performance of fast ignition and high boost, and also provides multiple vaping modes to bring you the vaping experience like never before. It also provides 6 safety protections, including overtime protection, output over- current protection, low battery protection, over heated protection, overcharge protection and atomizer short-circuit protection.
Compatible with PnP Coils, Enjoy Diverse Vaping Experiences
PnP POD II is compatible with all PnP coils including PnP-RBA coil. By pulling and pushing easily, you can enjoy a variety of fun and affordable vaping experiences. Two coils in the package are PnP-TW15 0.15Ω(55-70W) and PnP-TW30 0.3Ω(28-36W).
Specification
Color: Black, Gray Carbon Fiber, Red, Brown, Golden, Plum Red

Size: 123*26*32mm

Battery: 18650*1 (Excluding Battery)

Power: 5-80W

Coils: PnP-TW15 0.15Ω *1 (55-70W ) , PnP-TW30 0.3Ω *1(28-36W), compatible with all PnP coils

Oil-Filling: Top Filling

Charging Methods: Type C 5V, 2A

Chip: GENTE.TT 2.0

Screen: 0.96" TFT

Drag H80S Kit by VooPoo
Drag H80S Kit by VooPoo
Stock:

In Stock

Brand: Voopoo
Product Code:

Kit
Available Options
| Colors | Price | Stock | Order Qty |
| --- | --- | --- | --- |
Volume Discounts
Save with Volume Discounts & Tailored Tiered Pricing