12 Sep
In simple words, salt nic is the king of all kinds of nicotine. You might be wondering, who in their right mind would smoke salt? Well, if you didn't already know, salt nic has absolutely nothing to do with actual salt and most definitely cannot be used in food; salt nic is a naturally found nicotine in the tobacco plant.
Why should salt nic products be used?

In recent years, salt nic has gained the attention of users across the globe- and rightfully so. This nicotine is said to provide the most satisfying vaping experience, making users completely forget about freebase nicotine- originally the most popular kind of nicotine. Salt nic is known to give users a very mild throat sensation, unlike freebase nicotine which gives a much harsher throat hit that users often find to be uncomfortable and irritating for the throat.
Due to their smooth hit, salt nic can be used in much higher concentrations of nicotine. Freebase nicotine can only be used in lower concentrations, which often results in users hitting their vapes more to get enough nicotine in their systems. So who should use salt nic products? Well, the answer to this is fairly simple; those looking for a smoother vape experience and an incredible, quick way to get nicotine into their systems must try out salt nic products- you can thank us later!
What are the best salt nic products on the market?
It is difficult to pick out the best nic products because it all depends on user preference; however, there are some brands that consumers simply cannot stop talking about.
Pachamama Salts
The premium quality of Pachamama Salts' salt nic e-liquids is noted when users open the bottle cap. The sweet aroma of different flavors can be smelt straight from the bottle, making users super excited to fill their vape devices and take their first hit.
This salt nic comes in numerous mouth-watering flavors; with the best sellers being Fuji, Starfruit Grape, Honeydew Melon, and Strawberry Watermelon. These fantastic flavors are every fruit lover's dream- perfectly balanced, refreshing nic salts on the market! The best part? Users can pick between 25mg and 50mg based on their preference. 50mg is often preferred by those who are trying to quit smoking and are new to the world of vaping; whereas, 25mg is more often used by individuals looking to reduce their nicotine intake.
Pachamama values the needs of users, which is why they cater to the masses. The brand has been prized for its ability to replicate real flavors in its e-liquids and for paying attention to the tiniest details. They have definitely nailed their range of salt nic e-liquids and we highly recommend their products to those looking for an enjoyable vaping experience.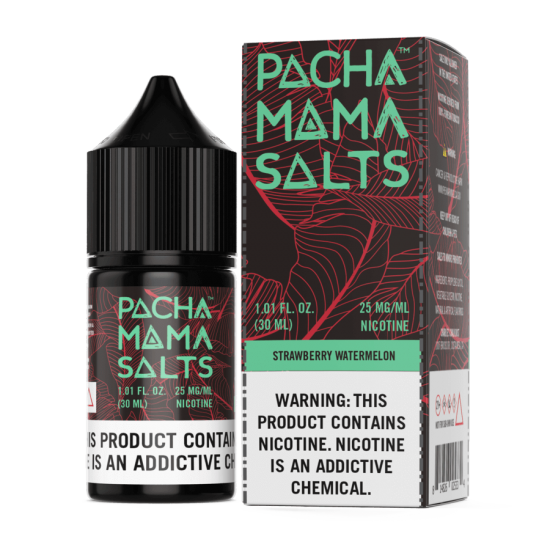 Okay so the name of the brand may not seem the most exciting, but trust us, from the reviews we have received, this e-liquid brand surely does not leave users feeling sad.
Sad Boy is known for its innovation, as they transformed their most popular freebase nicotine e-liquid flavors into salt nic e-liquids; talk about loyalty to consumers. They are best known for their delectable dessert flavors. Yes, users can enjoy their favorite desserts in their vape hits, that too with the option of choosing 28mg or 48mg! Some of Sad Boy's delicious dessert flavors include Blueberry Jam, Butter Cookie, Custard Cookie, and Key Lime cookie. If your mouth is watering after reading these flavor names, just imagine how much vape users will enjoy these fantastic e-liquid flavors.
Overall, the salt nic e-liquids do not only provide an exquisite vaping experience for vape users but they also bring meaning to every vaper's life.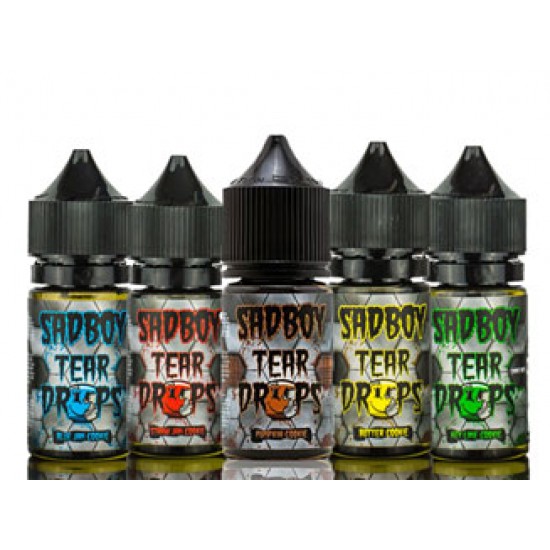 VGOD Salt E-Liquid

Our list of salt nic e-liquid top picks would be incomplete without mentioning VGOD Salt E-liquid. VGOD is known to combine the best quality e-liquids while ensuring not to compromise on flavor.
Providing a range of flavors, including the classics like mint and tobacco, as well as super unique flavors such as Pink Cakes, Summer Strawberry, and Ice Purple Bomb. Each flavor is guaranteed to make users' tongues tingle and get them craving more. Each flavor comes in two power-packed nicotine concentrations – 25mg and 50mg, which give users the nicotine hit that they are after.
VGOD is a premium e-liquids brand that every vape user will be obsessed over. Vape enthusiasts who value quality and a wide flavor profile will not be able to get enough of this brand's e-liquids.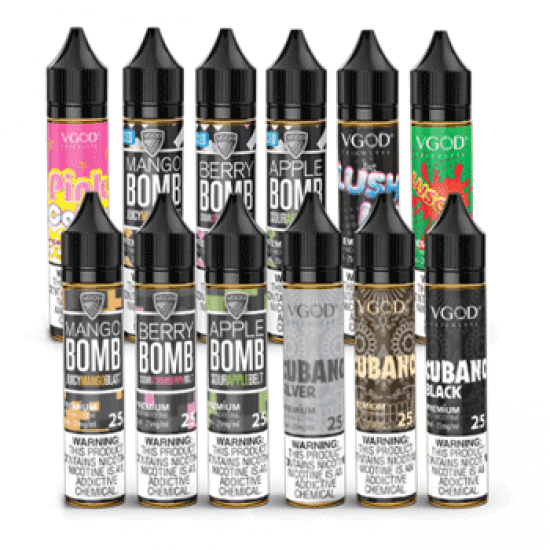 This was no easy task, but after carefully reviewing each brand, we have gone over our bestselling salt nic e-liquid brands. The flavors provided by each of these brands are something that will surely impress all vape users. We value user satisfaction above everything, so if you are looking to please your consumers, you should definitely purchase these e-liquids in bulk!