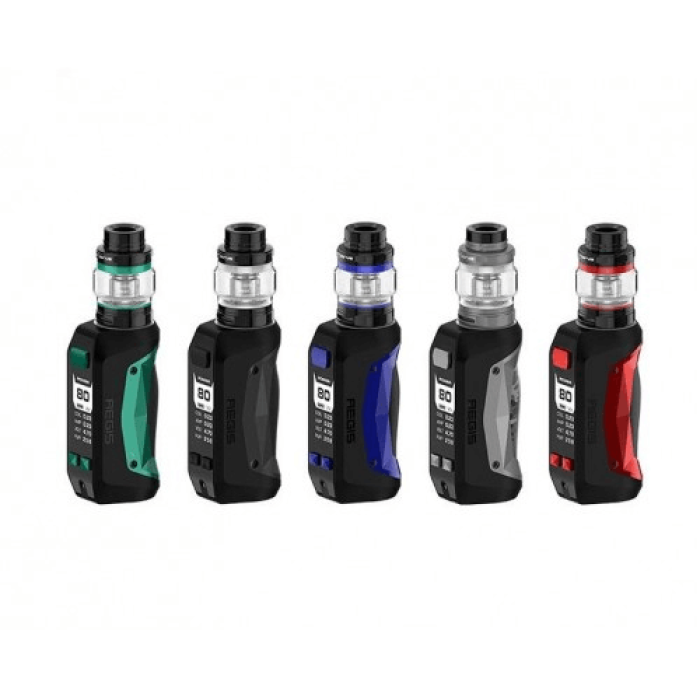 Restocking Soon
Aegis Mini Kit by Geekvape
World Wide Vape is the leading provider of vape e-cigarette kits in the USA. The Aegis Mini Kit by Geekvape is one of the best selling e-cigarette kits available in the market. We offer Aegis Mini Kit by Geekvape in a durable design. It is a small portable all in one e-cigarette kit that is much easy to carry and use.
The Aegis Mini is designed to be the most durable mod with extreme water, shock and dust protections. This mini beast is equipped with the advanced AS chipset, it powers from 5W to 80W and produces an outstanding power output accuracy in both power mode and temperature control mode. The mixture of alloy, leather and SLI silicon provides intense durability and great ergonomics. It is very compact and built in with a decent 2200mAh battery, which can charge up to 80% in just 20 minutes! Included in the kit is the Cerberus sub ohm tank which is optimized by the ultimate Super Mesh coil that maximizes heating contact surface area in order to provide maximum flavor and large vapor production. Super Mesh Coils are compatible with Aero Mesh tank and Cerberus tank.
Geek Vape Aegis Mini 80W Box Mod Features:
Advanced AS Chipset
Integrated 2200mAh Rechargeable Battery
Wattage Output Range: 5-80W
Temperature Control Range: 200-600F
Stainless Steel, Ni200, and Titanium Supported
Power Mode
TC Mode
Bypass Mode
Zinc Alloy, Leather, SLI Silicon Chassis Construction
Ergonomic Grip
Intuitive Display Screen
Oversized Intuitive Firing Button
Two Adjustment Buttons
Dustproof, Shockproof, and IP67 Waterproofing
Short-Circuit Protection
10s Cut-Off Protection
Over-Heat Protection
Over-Current Protection
Over-Charging & Discharging Protection
Anti-Dry Protection - Temperature Control Mode only
MicroUSB Charging Cable
Centered 510 Connection
Available in Black & Green, Stealth, Black & Blue, Camo & Gunmetal, Black & Red

Geek Vape Cerberus 25mm Sub-Ohm Tank Features:
25mm Diameter
4mL Standard Juice Capacity
5.5mL Bubble Glass Juice Capacity
Superior Stainless Steel Construction
Pyrex Glass Reinforcement
Super Mesh Coil System
0.2ohm Super Mesh X1 Coil - Rated for 60-80W
0.3ohm Super Mesh X2 Coil - Rated for 30-45W
Compatible with TFV8 Baby Coils
Threaded Top-Fill Design
Dual Slotted Adjustable Bottom Airflow Control
Detachable Structure
510 Connection
Package Includes:
1 Aegis Mini Mod
1 Cerberus Tank Atomizer
1 Spare Parts Pack
1 MicroUSB Cable
1 User Manual
1 Super Mesh X2 Coil
1 Spare Regular Glass Tube
Aegis Mini Kit by Geekvape and other vape e-cigarette kits are widely available at our website. In addition, you can also buy vape e-liquids, mods, tanks, and accessories at cheaper price from our website.
WARNING: Please have a great understanding and technical knowledge on how to use this product in order to properly use it. There is always an inherent risk when using any rechargeable batteries at anytime and under any circumstances. World Wide Vape Distribution and any of World Wide Vape Distribution's parent and subsidiary companies are not held responsible for any damage for any modification of the batteries, chargers, devices and other products that we carry in any form or shape, this is including pack making.

World Wide Vape Distribution and any or all of World Wide Vape Distribution's parent and subsidiary companies will not be held responsible or liable for any injury, damage, or defect, permanent or temporary that may be caused by the improper use of a Li-ion (Lithium-ion), LiPo (Lithium-ion Polymer) and any rechargeable battery and/or batteries as well as chargers. Please have a greater understanding of the batteries and/or chargers you are using and how to care for them properly.
This product contains nicotine. Nicotine is an addictive chemical.
Aegis Mini Kit by Geekvape
Aegis Mini Kit by Geekvape
Stock:

Restocking Soon

Brand: Geekvape
Product Code:

Kit
Available Options
| Colors | Price | Stock | Order Qty |
| --- | --- | --- | --- |
Volume Discounts
Save with Volume Discounts & Tailored Tiered Pricing